Call of Duty: Black Ops 4 Blackout gets respawn mode for the first time
Soldier on.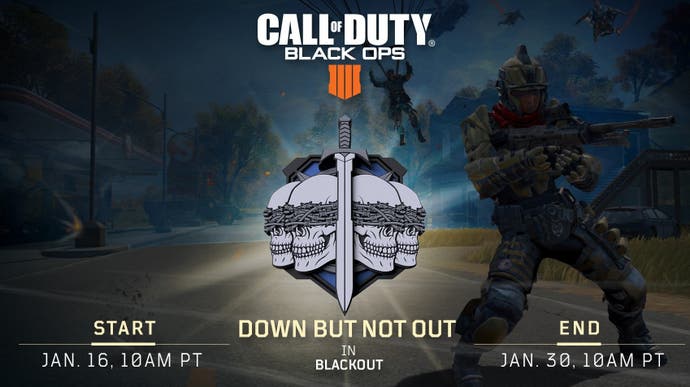 This week's shaping up to be a great one for those hoping to try Call of Duty: Black Ops 4. Today marks the start of Blackout's first 7-day free trial - and along with this, the advent of the battle royale mode's first limited time mode with respawning. This should certainly help if you're new.
The aptly-named Down But Not Out mode, which is currently a squads-only LTM, allows players to respawn their fallen comrades after each "new collapse" (that's when the circle moves to a new area). The catch is at least one squad member needs to stay alive for this to happen. Time to start practising those bush-hiding skills.
Down But Not Out is already live on the PlayStation 4 version of the game, with PC and Xbox One set to follow shortly. You'll have until 30th January to try this one, so make those days count.
Now live in #Blackout on PS4: Down But Not Out!

Drop into this new limited-time mode where players redeploy with each new Collapse... as long as one teammate survives. Get ready for some insane final circles. pic.twitter.com/LJSuK4gwBZ

— Treyarch Studios (@Treyarch) January 16, 2019
The idea of limited time modes with respawning - separate to the main version of a battle royale game - is hardly new. Fortnite, for instance, regularly features a respawn LTM called Team Rumble, which gives players infinite respawns and allows them to focus on kills rather than survival. It's a popular mode and a great way to practise, as players don't have to waste time queuing in lobbies after every death. Which happens a lot in battle royales, funnily enough.
In theory, Blackout's Down But Not Out playlist should similarly inspire aggressive play, create hectic final circles, and provide a more forgiving mode for new players. Bravo.