Borderlands 3 pre-order pulled from Epic Games store amid Mega Sale kerfuffle
UPDATE: 2K says it will honour games bought during sale price.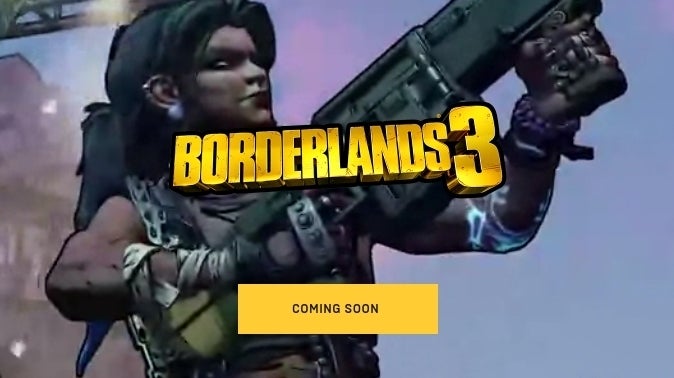 UPDATE: Publisher 2K has said Borderlands 3 will return to the Epic Games store soon, and games sold at the sale price will be honoured.
However, it failed to explain why it pulled Borderlands 3 from the Epic Games store.
Here's the statement sent to Eurogamer by a 2K rep this evening:
"We are working closely with Epic and have temporarily removed Borderlands 3 from their storefront. We look forward to the game being back on the Epic Games store soon. Games bought during their Mega Sale will be honored at that price."
ORIGINAL STORY: The option to pre-order Borderlands 3 from the Epic Games store has vanished without explanation.
Overnight, after a raft of publishers pulled their games from Epic's download platform over its first sale, publisher 2K appeared to follow suit with the hotly-anticipated Borderlands 3.
As per the sale, the prices for the various versions of Borderlands 3 came with an eye-catching £10 off. This meant you could pay £39.99 for the standard edition of Borderlands 3 instead of £49.99.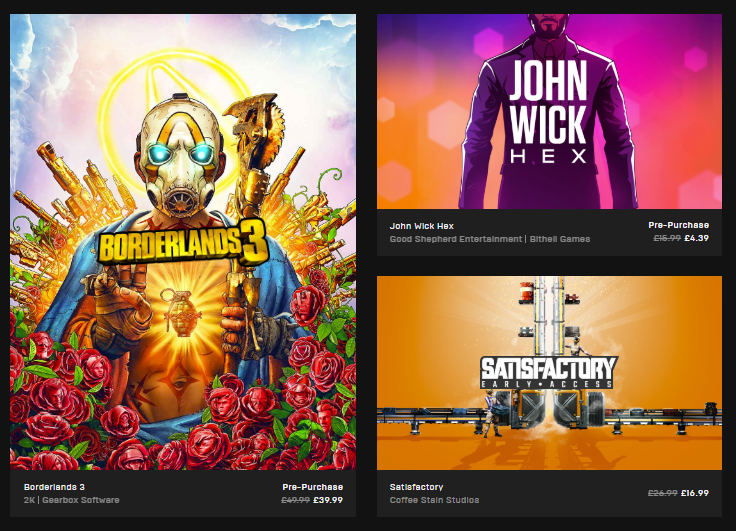 Now, Borderlands 3 is simply "coming soon", with no way to pay at all. "It literally happened while I was clicking for checkout," wrote redditor Rosselman. "So frustrating."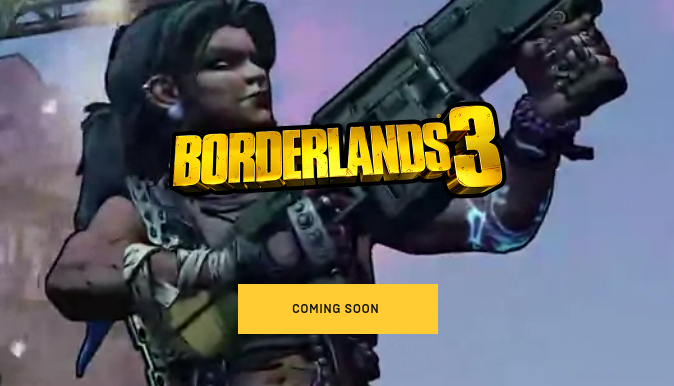 2K appears to have also pulled the ability to pre-order the digital edition of the PC version on the official Borderlands website.
So, what's going on? Epic declined to comment when contacted by Eurogamer, pointing us to 2K, who we've asked for an explanation. You'd like to think those who managed to nab Borderlands 3 with a tenner off will see their purchases honoured - yesterday, in a statement Epic said it would do as much for those who bought Vampire: The Masquerade - Bloodlines 2 in the sale before it was removed.
As Emma Kent wrote in our coverage of yesterday's dramatic Epic Games store events, for newly-released games (and pre-order titles in particular), a price drop this steep has the potential to devalue a game too early. Discounts are often used to extend a game's sales well past release, so dropping the price this soon gives publishers little room for deeper discounts further along the line. It's possible this was the main reason for the removal of Borderlands 3.
While we wait to find out, those who want to buy Borderlands 3 as a PC download right now can't. It's an embarrassing situation for perhaps Epic's most high-profile exclusive. Gearbox's hugely popular looter shooter series has been a Steam mainstay for years. The third game in the franchise is an Epic Games Store exclusive until April 2020.
"The PC gaming community has been an important part of the success of the Borderlands series, and we are excited to be partnering with Epic who recognise its worldwide popularity and share in our commitment to bring Borderlands 3 to this rapidly expanding audience," commented 2K president David Ismailer at the time the deal was confirmed.
"Our mission, in addition to delivering the most engaging and captivating entertainment experiences, is to embrace new distribution platforms that will contribute to our effort to grow the audience for Borderlands 3."