Borderlands 4 and Tiny Tina's Wonderland 2 have popped up on a LinkedIn profile
And it's stolen Gearbox's wonder.
Two as yet unannounced Borderlands games have appeared on the LinkedIn profile of a former Gearbox employee.
A former studio technical director who had previously worked at Lost Boys Interactive on a three-month contract has included references to Borderlands 4 and Tiny Tina's Wonderland 2 on their professional profile, even though neither game has been formally confirmed.
In the director's own words, they supervised 66 employees across the team to "plan and engineer development on Borderlands 4 UE4" and "Tiny Tina's Wonderland 2 UE4", as well as a whole of other games in Take-Two's considerable portfolio.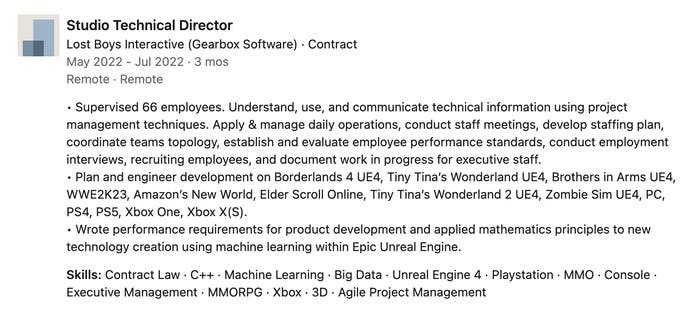 Should we be surprised that there are more games coming to what is arguably Gearbox's most successful franchise? Probably not, particularly as CEO Randy Pitchford has made several references to a fourth mainline Borderlands game several times since the third instalment was released in 2019.
There's no intimation from the LinkedIn profile of where in the development cycle either game is, so it's possible that both games are still in pre-production. Maybe we'll find out more at next month's The Game Awards, eh? As always, we'll keep you posted.
Back in September, reports claimed that Gearbox had emailed employees confirming parent company Embracer Group was considering parting ways with the Borderlands studio, although a specific course of action is yet to be decided on.
"The base case is that Gearbox remains a part of Embracer," Gearbox chief communications officer Dan Hewitt told staff in an email at the time. "However, there are many options under consideration, including Gearbox's transfer, taking Gearbox independent, and others. Ultimately, we'll move ahead with whichever path is best for both Gearbox and Embracer."
"Nothing has been decided yet," Hewitt added, "but there will be a lot of speculation in the coming weeks."