Blizzard under fire after punishing pro-Hong Kong Hearthstone player
UPDATE: r/Blizzard shuts in wake of backlash.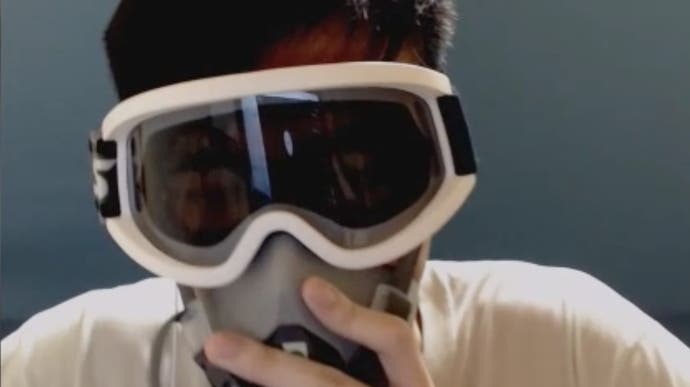 As protests in Hong Kong continue to escalate, concern about Chinese censorship has now spilled over into the world of Hearthstone, as Blizzard has suspended a competitive player for voicing Hong Kong support in a competition.
Earlier this week, Hong Kong player Chung "Blitzchung" Ng Wai appeared in a Grandmasters Asia Pacific post-match interview, where he signed off with a bold statement. Wearing a gas mask similar to those worn by protestors (and recently banned in Hong Kong), Blitzchung said: "Liberate Hong Kong. Revolution of our age!" The stream quickly cut to an ad break, but the damage was already done, and all three of the streamers have now been punished by Blizzard. Yes, including the two casters who very clearly didn't want to be involved.
In a post on the Hearthstone website, Blizzard claimed Blitzchung violated section 6.1 of its competition rules, which state that players cannot engage in any act that "brings you into public disrepute, offends a portion or group of the public, or otherwise damages Blizzard image". The punishment for this is removal from Grandmasters and the total loss of the player's prize money, which is exactly what Blizzard has imposed on Blitzchung.
"Effective immediately, Blitzchung is removed from Grandmasters and will receive no prizing for Grandmasters Season 2", the statement reads. "Additionally, Blitzchung is ineligible to participate in Hearthstone esports for 12 months beginning from Oct. 5th, 2019 and extending to Oct. 5th, 2020."
Despite the two presenters covering their faces and quickly cutting to a commercial, Blizzard says it will "immediately cease working with both casters".
Eurogamer has contacted Blizzard for further comment.
While Blizzard has not fully explained its reasoning for the suspension, it's hard not to view it in the context of the Hong Kong protests, which began in June following proposals to permit extradition to mainland China. Over fears this would erode Hong Kong's relative autonomy under the "one country, two systems" deal, Hong Kong citizens have since been regularly protesting in the streets - but news of this rarely makes its way back to China. Papers and TV in China are under Communist Party control, while the heavily-regulated internet (dubbed the Great Firewall of China) blocks foreign sites and critical voices on social media. Many use VPNs to get around this, but the government has reportedly started issuing fines for these too.
As a result, western companies operating in China face pressure to toe the line, or risk damaging their Chinese business interests. But by bending to this pressure, they also risk accusations of censorship and undermining free speech: not a great look if one of your biggest markets is America. Earlier this week, for instance, the National Basketball Association (NBA) came under fire after a team executive had to apologise for a pro-Hong Kong tweet. Following backlash, the NBA has now tried to clarify it doesn't want to regulate the free speech of players, while Chinese broadcasters have scrapped plans to broadcast several NBA matches, vowing to "immediately investigate all co-operation and communication involving the NBA" (via the BBC). South Park, meanwhile, has responded to its own ban with the sort of statement you'd probably expect.
Naturally, Blizzard's decision has not gone down well in the west: the company is now trending on Twitter (65k tweets at time of writing), and the ruling has received widespread condemnation from the Hearthstone community on Reddit. Many are highlighting the financial motivations, the severity of the punishment (for both player and casters), and the hypocrisy of this decision in comparison to Blizzard's usual marketing strategies.
---
UPDATE: Following a significant wave of backlash to Blizzard's suspension of a pro-Hong Kong Hearthstone player, the subreddit r/Blizzard has shut down.
Visitors to the page are now greeted with the below image, which says the community has been set to private by the moderators.
Meanwhile, a post about Blizzard from the WOW subreddit is currently sat at second place on the most popular list, while the number of tweets on #Blizzard has now reached 95k.
If you want an idea of the sort of state r/Blizzard was in, just take a look at r/Hearthstone, which is still up and running.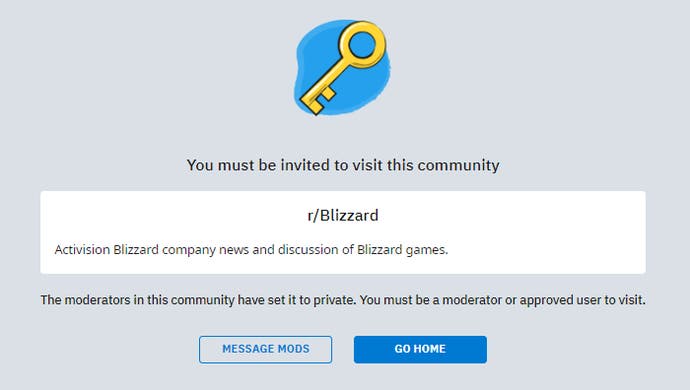 ---
Given the highly charged environment surrounding Hong Kong and China, it's remarkable Blitzchung chose to risk his esports career in this way - so what motivated him to do it?
"My call on stream was just another form of participation of the protest that I wish to grab more attention," Blitzchung told InvenGlobal earlier this week. "I put so much effort in that social movement in the past few months that I sometimes couldn't focus on preparing my Grandmaster match. I know what my action on stream means.
"It could cause me lot of trouble, even my personal safety in real life. But I think it's my duty to say something about the issue."
In the games industry more generally, this year has seen the Chinese government reform its game approvals system with stricter rules on content, and Taiwanese studio Red Candle's game Devotion get nuked from orbit following the discovery of a Winnie the Pooh poster referencing President Xi Jinping. Make sure to read Edwin's interview with the devs over here.