Blizzard confirms troll-themed Rastakhan's Rumble as next Hearthstone expansion
Out early December, single-player to follow.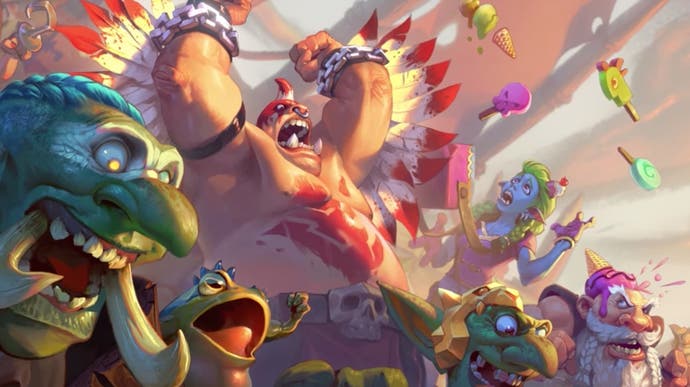 Following that unfortunate leaky appendage incident earlier today, Blizzard has confirmed that Hearthstone's next expansion will indeed be Rastakhan's Rumble - and it's due to launch on PC and mobile on December 4th.
Rastakhan's Rumble features 135 new cards (some of which have already been revealed), plus a variety of new mechanics - and Blizzard sets its scene thusly: "Once per generation, the troll tribes of Azeroth make a pilgrimage at King Rastakhan's behest to participate in a no-holds-barred smackdown for the ages. This year, nine teams have formed around their mightiest combatants-Legendary Troll Champions who each represent a Hearthstone class."
These teams have access to new Legendary minions which, in lore terms, are manifestations of the ancient Loa worshipped by the trolls. Also new are Spirits, class-specific minions that, according to Blizzard, all have "impressive effects that synergize with the Loa". There's also the new Overkill mechanic, that rewards players for dealing excess damage to enemy minions. Rastakhan's Rumble even gets its own (extremely catchy) song:
A new single-player experience, Rumble Run, will also be coming as part of the Rastakhan's Rumble expansion. This is due to launch "soon after" December 4th, and pits players against "Azeroth's strongest troll champions". More details will apparently be shared soon.
Rastakhan's Rumble card packs will be available in two different bundle options: the 17-pack (€19.99) Challenger's Bundle, which includes the Ready to Rumble card back, and the 50-pack (€49.99) Rumble Bundle. This includes a new playable Shaman Hero, known as King Rastakhan.