BioWare trailer teases new project, possibly named Shadow Realms
UPDATE: A second video called Spark arises.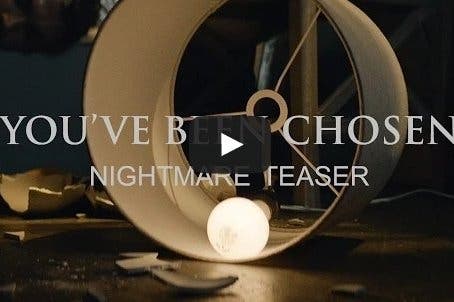 UPDATE 31/07/2014 11.13pm: A new teaser video for BioWare's upcoming project, ostensibly titled Shadow Realms, has arrived via its You've Been Chosen site.
Entitled Spark, it shows a young man drawing creepy circles on napkin in a cafe when his phone starts receiving calls from an unlisted number. After transferring spurts of electricity to the man the whole joint starts going ablaze.
Or does it? Is it a dream? An alternate-reality game? A failed attempt at mixing plaid and leather in the same garment? You decide.
UPDATE 25/7/14 2.40PM: Internet sleuths have spotted the file name for an image in BioWare's email to be named "ShadowRealms_Teaser_video.jpg" (thanks, AGB).
If Shadow Realms is the title, it would fit with an EA trademark filed back on 28th February for the same name - just a day after Fallen London developer Failbetter Games teased that it was working on a project with BioWare.
ORIGINAL STORY 25/7/14 9.50AM: Mass Effect and Dragon Age developer BioWare is teasing a new horror project.
Select fans have been emailed a link to Youve-Been-Chosen.com, which reveals a live-action teaser trailer for something named "Nightmare".
"The time is near," the site reads. "They are watching. Your power is rising. Cologne, Germany. You've Been Chosen."
It's likely we'll hear more at Gamescom (held in Cologne) in a couple of weeks.
There appears to be some kind of ARG running with more clues to the game - police reports for a missing person named Henna Caplin, as well as a website for a fake college - the Woods-Watson Institute of Higher Learning.
What could it all mean? It doesn't look anything like the new IP that BioWare briefly teased back at E3 and it certainly doesn't look like Mass Effect or Dragon Age.
Our best guess would be BioWare's mysterious collaboration with Fallen London developer Failbetter Games. The British-based studio teased that it was working on something with BioWare earlier this year.