Fallout 4 PS4 mods currently limited to 900MB
UPDATE: PS4 Mods beta delayed indefinitely.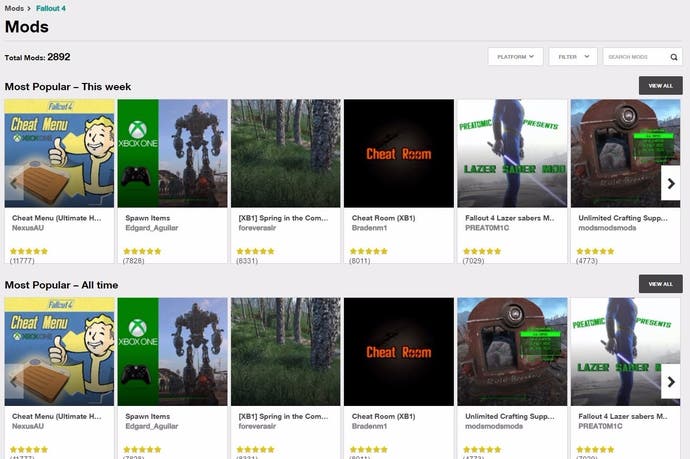 UPDATE 29/06/2016 5.14pm: Fallout 4 mods have been delayed on PS4, with no word on when to expect them.
"We regret to say that the PS4 Mods Beta for Fallout 4 has been delayed," Bethesda Game Studios tweeted. "We will update everyone when we can."
ORIGINAL STORY 20/06/2016 11.40am: Fallout 4 mods are up and running on Xbox One, albeit with a dash of controversy we reported on earlier this month. But it seems developer Bethesda is running into issues getting mods going on PlayStation 4.
The latest Creation Kit Update brought with it PS4 mod support, and in the patch notes Bethesda revealed some of the problems associated with working with Sony's console.
First off, PC textures are used, which means memory and performance issues may occur. Bethesda said it was working with Sony on "optimal texture exporting support" in a future update.
Secondly, sound files are currently not supported because the PS4 sound format is a proprietary format. Again, Bethesda is working with Sony, this time on sound file processing support in a future update.
And thirdly - and perhaps most concerning - the PS4 mod storage limit is around 900MB, compared with 2GB on Xbox One. Bethesda called on users not to upload mods larger than 900MB, and said it was working with Sony to increase this limit.
It all amounts to a slightly worrying situation for Fallout 4 mods on PS4, but Bethesda has said the closed beta for PS4 mods "is close to ready". We'll see!
Meanwhile, Bethesda added a new security feature for uploading mods on Bethesda.net. As we reported, a row broke out over "stolen" mods on Fallout 4. There's no way to create mods for the Xbox One version of the game with the Xbox One. They have to be created on PC first, then made available to Xbox One owners via Bethesda.net.
Now, Bethesda has made it so uploading mods to Bethesda.net requires Fallout 4 ownership via a Steam-linked Bethesda.net account.
To link your Bethesda.net account, you have to start Fallout 4, select Mods and log-in. This automatically links your Bethesda.net account to your Steam ID.