Battlefield Heroes turns three, EA releases new virtual items
New map, new virtual clothes, Treasure Chest Key.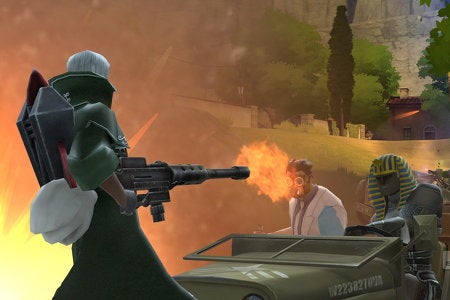 Cartoon free-to-play shooter Battlefield Heroes is three-years-old today.
To celebrate EA has released a new map, called Fortress Frenzy, set on a small island. Also introduced is the Treasure Chest, which gives players special rewards at random upon killing enemies.
If you log in at some point between today and Sunday, 1st July, you'll receive two Party Packs free. One is Royal, one is National, both include a Birthday Shirt, a Tricycle Emote that lasts for three days and a Treasure Chest Key. To get your free stuff, log-in, look in the My Stuff menu and select Rewards.
Battlefield Heroes was created by DICE, developer of the main Battlefield series, as EA's first play-for-free title supported by microtransactions. Easy Studios, also located in Stockholm, Sweden, is now in charge of development.
Battlefield Heroes had as of January 2012 10 million registered users, although in today's announcement EA claimed over 12 million "loyal fans worldwide".