Batman: Arkham Knight revealed, has driveable Batmobile
UPDATE: Debut trailer released.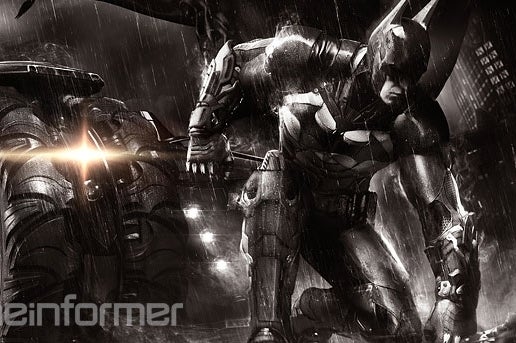 UPDATE 2: Warner Bros. has released the debut trailer for Rocksteady's Batman: Arkham Knight. Check it out below.
According to US retail giant GameStop, Batman: Arkham Knight launches in North America on 14th October 2014. That's a Tuesday. We in the UK may have to wait till the Friday, 17th October.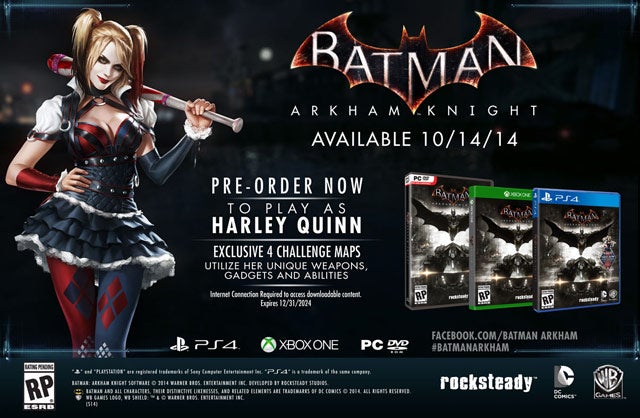 UPDATE 1: As expected, Batman: Arkham Knight is on the cover of the next issue of US magazine Game Informer.
In a brief video, members of the Rocksteady development team discuss the game, the final entry in the Arkham series.
Arkham Knight is set one year after the events of Arkham City, game director Sefton Hill said. Batman is at the peak of his powers, but he's up against all of Gotham's bad guys who are teaming up to take him down. Enemies mentioned were Scarecrow, Penguin, Two-Face and Harley Quinn.
Arkham Knight is set in a bigger Gotham City, with wider streets perfect for driving the Batmobile around in. "We've known it's what people want," Hill said. "It refreshes the whole experience."
Hill continued: "This is the natural end for the story. We really want to go out in style."
The game is due out later this year on PS4, Xbox One and PC. ORIGINAL STORY: The bat seems to be out of the bag: Rocksteady's new Batman game will be Arkham Knight.
That's according to a listing on major UK retailer GAME, which has since been pulled (but immortalised on NeoGAF).
Arkham Knight was listed for PC, PS4 and Xbox One, and carried a "TBC 2014" release date.
The game is to be a finale for the celebrated Arkham Series that Rocksteady created. Most exciting of all, it appears to feature a driveable Batmobile, with which to explore the presumably open world of Gotham City.
A pre-order bonus was the ability to play as Harley Quinn in exclusive Challenge Maps.