Here's Assassin's Creed Valhalla for £30 on all consoles
Eivor bargain for you right here.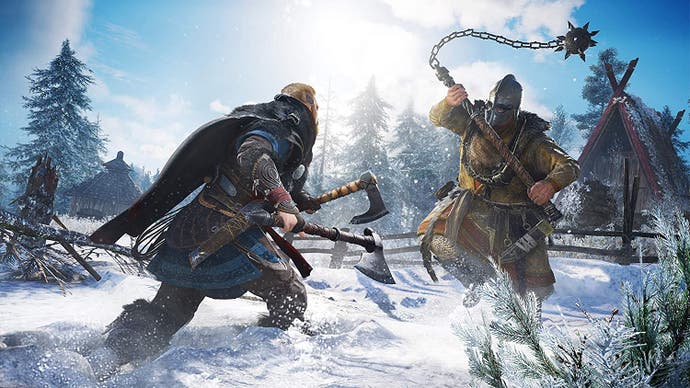 Ubisoft's latest open-world opus Assassin's Creed Valhalla is now down to just £30 on all consoles at Amazon UK.
The near 100-hour epic was dubbed "a saga for the ages" in Tom's Assassin's Creed Valhalla review. Many must've agreed as the game can also boast the biggest launch in the history of the series. Makes sense, really, as it arrived just in time for the launch of the PS5 and Series X as a cross-gen release.
Despite bouncing off Origins I've definitely been tempted to pick it up for myself after all the positive buzz - and at this price, I may finally be ready to sharpen my axe.
Now, this isn't an Amazon Prime Day deal that's been let slip early but simply a price match on an offer also available at Tesco. However, the availability of the game through the supermarket online seems to vary by region (I can't seem to buy it!) so if you can't get to a store it's another opportunity to pick it up.
If you want even more Viking hijinks beyond the lengthy base game, the good news is Ubisoft has just released the Wrath of the Druids expansion. This adds the majority of Ireland to explore, a new campaign, new enemies, a trading system, and an assortment of fresh armour and cosmetic items. From Tom's review, it sounds like anyone who wants more Assassin's Creed Valhalla will be very pleased, indeed.
For even more PS5 deals you can also check out the Days of Play sale that is running until 9th June. Offers include Demon's Souls for £50, The Last of Us Part 2 for £10 and Final Fantasy 14 Complete Edition for £18.
And for all the latest bargains or PS5 stock info you're always welcome to check out Jelly Deals or give us a follow on Twitter.