Assassin's Creed 3 multiplayer storyline to continue long after launch
The Templar trap.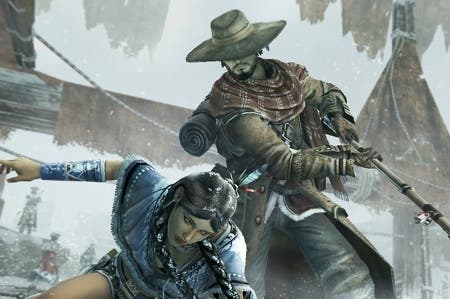 Assassin's Creed 3's multiplayer mode will offer new story content long after launch, Ubisoft has revealed.
Players will be treated to new challenges every month. Completing these will unlock more of the game's Abstergo-based storyline.
"The multiplayer is so big today that it's already a game on its own," Ubisoft Annecy director Damien Keiken told CVG. "We've been given the right to develop the Abstergo storyline since the beginning, which is a big responsibility."
"As you progress in the game and level up your character, you access these files and videos. Every month you'll have new challenges to unlock new content that will continue the storyline throughout the year."
Assassin's Creed: Revelations offered extra cut-scenes and files to those who levelled up their multiplayer profile. The story detailed a Templar agent in-training, and starred recurring baddie Warren Vidic.
Assassin's Creed 3's story posits that the animus device has been put on sale to the general public, so that anyone can enjoy HD killing from their living rooms.
"What are the real motivations behind Abstergo's sudden initiative to release such a revolutionary product to the public?" Keiken said. "A product that is redefining the way we're thinking, the way we're living..."
A recently pulled trailer suggested Vidic's return, and included a roadmap of "future initiatives" - extra story information to unlock.
Other Assassin's Creed 3 multiplayer improvements include new game modes, such as co-operative team-based offering Wolf Pack. Assassin's Creed 3's new dynamic weather system will also feature.
"Now in the multiplayer maps, a snow storm or heavy rain can seriously affect your visibility, making it harder to spot the other players," Keiken concluded.