Pro Evo 2 vs. Disney Sports, plus Konami's Inner Fears
MGS2 Substance, Silent Hill, Pro Evolution Soccer 2, Disney Sports, Dancing Stage, Contra
Konami's stand had more playable games than most of the rest of ECTS put together, but sadly the games we really wanted to play - Metal Gear Solid 2: Substance and Silent Hill 3 - were nowhere to be seen. Well, that's not exactly true. Behind closed doors both games could be seen churning away in E3 trailer form, but being told that Konami was waiting until the Tokyo Game Show to let journos loose on Substance didn't do much for my temper. However, Konami did use ECTS to update us on when some of their more pressing titles will be landing and what we can expect from them. First of all, Silent Hill 2: Inner Fears will debut on Xbox later this year, and could feature the Making Of documentary DVD alongside the finished game - unlike its Japanese and American counterparts - but Konami were somewhat downbeat about the possibility, on the basis that even if they did bundle it gamers would have to fork out extra for the DVD controller to see it! It stands more chance of happening if MS Europe follows the US and bundles the DVD pack with the hardware. The Silent Hill 2 Director's Cut due out on PlayStation 2 next February will more than likely feature the Making Of DVD, so if you've been holding off buying the game in light of these revamps, that might be the one to wait for. Nevertheless, the game is a sight to see on Xbox anyway, particularly thanks to the game's graphical tune-up, and the promised Born From a Wish episode is said to be worth a good 2 1/2 hours of gameplay on top of the critically acclaimed single player game. From a purely European perspective, since the Yanks won't have it, Pro Evolution Soccer 2 was running at 80% complete and we had to queue for nearly 20 minutes to get a go on it. Although to the untrained eye it might seem nearly identical to the Japanese Winning Eleven 6, subtle changes are abound. You can now nutmeg opposing players and play the ball off their shins, which helps to dismantle some of our many grievances with the Japanese game. As Konami were only too pleased to remind us, it took some 80 hours of gameplay to come up with anything approaching a criticism. It's not nitpicking, per se, but when your love for the game is solely to blame for any minute problems, you know the formula is almost perfect anyway. Although there was some dismay at the game's selection for Best Console Game of the Show in yesterday's awards, we can't think of much else that could top it. Contra: Shattered Soldier was playable behind closed doors, and as a delightfully beautiful 2D shooter of the old school Probotector vibe, it had a certain frenetic charm and simplism lacking from many contemporary 3D shooters, with which it'll arguably complete when it shows up early next year, one of which was Silent Scope 3, being shown as footage only. Although Konami professes to having gold discs sitting at their office, unfortunately the game won't be out until January, and we won't be getting our hands on it until sometime around then. At least it won't get lost in the Christmas rush, I suppose. A surprise success story at the Konami stand was the Disney Sports Soccer game. Reminding us more than a little of Sega Soccer Slam and Midway's RedCard, teams of individual Disney characters with a plethora of special moves at their disposal battle for the ball and blast it into the net with gay abandon. To be honest, we were having far too much fun with this, and expect to be in detox all next week as a result.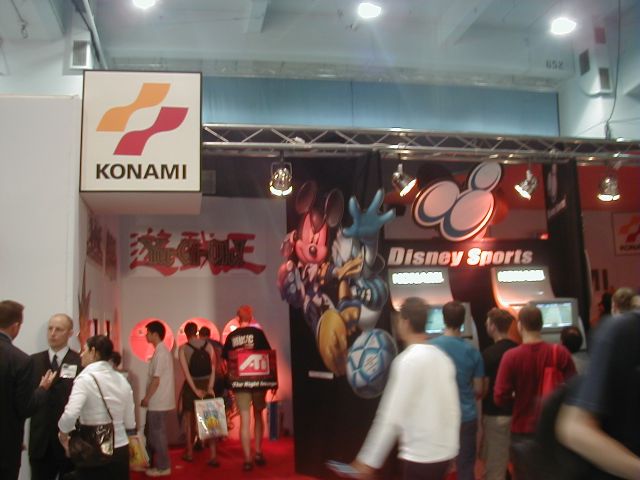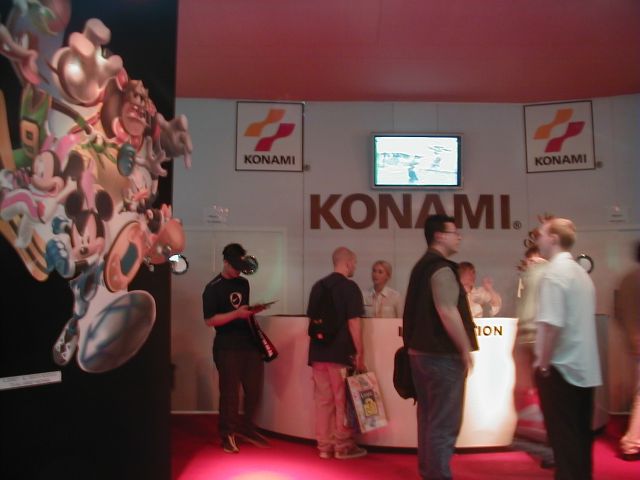 Finally, we got our hands on Evolution Skateboarding (of which more elsewhere, shortly), and ISS3 even received a mention, albeit fleetingly and in connection with "next year". No surprises there then. On the whole though, a good showing for Konami even in spite of absentees, and we'll be back on the stand later to toil away the hours before closing playing the utterly insane Dancing Stage. Samba De Amigo it is not, but any excuse to move our feet and we're at it...
Will you support Eurogamer?
We want to make Eurogamer better, and that means better for our readers - not for algorithms. You can help! Become a supporter of Eurogamer and you can view the site completely ad-free, as well as gaining exclusive access to articles, podcasts and conversations that will bring you closer to the team, the stories, and the games we all love. Subscriptions start at £3.99 / $4.99 per month.