Arms' first patch adds LAN support and Spectator Mode
Nintendo is doing its best to give Arms legs.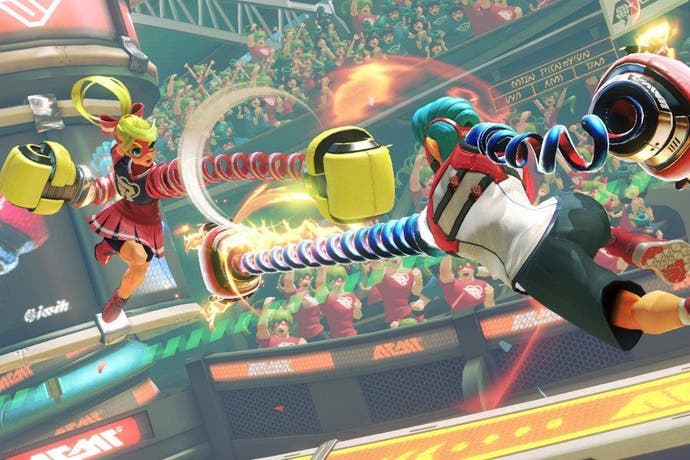 Nintendo's delightful boxing game Arms has a new trick up its spiraled sleeves with the addition of LAN support.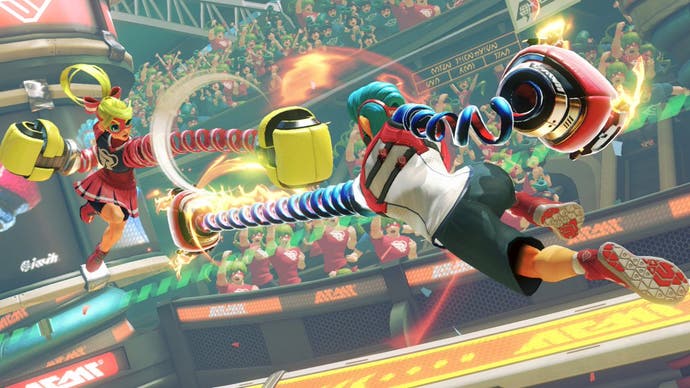 Added as part of its version 1.1 update, this will allow players to hook up two nearby Switches using a wired LAN adapter, which will cut down on any lag - a necessity for the more serious competitive scene where every millisecond matters.
Another noticeable addition in this patch is a Spectator Mode. Entitled Arena Mode, this will allow two people to watch a match between another two players. That's a pretty small audience size, but will work for groups of three or four friends who want to take turns sitting a match out while watching how their pals perform.
Other fixes are more minor, like tweaking Kid Cobra and Barq's movement, or a typo where Biff calls "ARMS Grand Prix" the "AMRS Grand Prix."
You can read the full patch notes below:
"LAN Play" support added. You can now battle against players via LAN. On the Top Menu, click and hold the Left Stick and then press L+R to switch between "Local" and "LAN Play."
"Arena Mode" added. This mode focuses on serious 1-on-1 matches and can be played via "Friends,""Local," or "LAN Play." Up to four players can be in the arena, and players not currently fighting watch as spectators.
Fixed issue where Kid Cobra was able to repeatedly do a charge dash while riding snake boards.
Fixed issue where Barq would warp a great distance away after Byte & Barq perform a rush attack while on a snake board.
Fixed issue where ARMs such as the Chakram would pass through the purple light boxes in the Ribbon Ring stage.
Fixed issue where Biff referred to the "ARMS Grand Prix" as the "AMRS Grand Prix."
Nintendo seems dedicated to supporting Arms in the long-term, with plenty of free DLC on the docket like the impending playable character Max Brass, who will be included in the game's next update.
Unfortunately for Nintendo, Arms isn't off to a great start commercially, with its UK sales languishing behind Sony's four month old Horizon: Zero Dawn, granted that just had its price decrease in sales.
That's a shame though as our Martin Robinson highly recommended Arms.
"Arms hits home, a glorious sucker punch from a Nintendo that's now more confident than ever to move away from its staples and spring a surprise," he wrote in his enthusiastic Arms review. "This is a mad, brilliant dance of a game, and one whose tune I suspect we'll be humming along to for some time yet."