Ark: Survival Evolved's final expansion, Extinction, out today on PC, soon on consoles
Base game free to play for a week on Steam.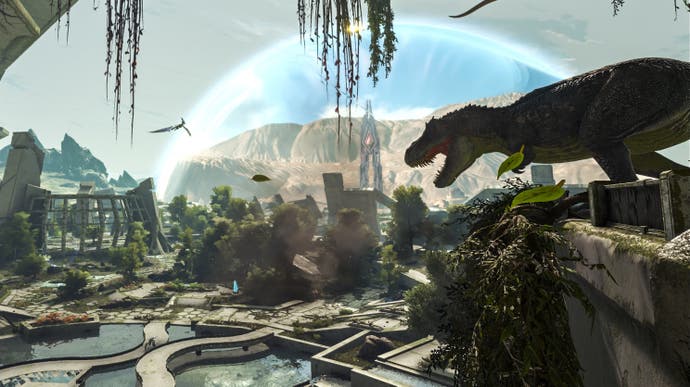 Three years after it released in Steam Early Access, and one year after it launched for real, Ark: Survival Evolved's third and final DLC expansion, Extinction, arrives today on PC. It comes to PS4 and Xbox One on November 11th.
Extinction follows on from Ark's previous paid expansions, Scorched Earth and Aberration, and introduces a brand-new map, a new selection of mechanics, and new tameable critters.
For this, its final offering, developer Studio Wildcard has once again opted to go hard on the sci-fi, foregoing Ark's earlier, more natural environments for a brooding sprawl of dereliction. Extinction's map transports players to a ravaged Earth, which, for those invested in the series' lore, "holds both the secrets of the past and the keys to its salvation". Alongside its ample wasteland, Extinction includes the remains of a sprawling metropolis, waiting to be explored.
"As Element runs rampant across Earth, corrupting and mutating all that it touches, Survivors must be prepared for the unique challenges fuelled from these cataclysmic events," explains Wildcard, "Engage in epic battles of titanic proportions when encountering the colossal Titans that rule this hostile planet as the ultimate apex predator."
I think the last time I played Ark, I rode a beaver, planted a lemon, and made a wooden toilet that I could poop in, so this all sounds very different now.
According to Wildcard, creatures in Extinction are a combination of organic and mechanical (some of which you can see in the trailer above), and the expansion brings an assortment of new elements to the core survival experience. There are surveillance drones to control, organic transmutation machines, security bots, and it's even possible to build your own battle mech.
The expansion also introduces cryopods, gravity grenades, creature leashes to hold tames in place, and a Tek bridge for building across large gaps - the latter two being features that have either been requested or expected for years, so it's nice to officially see them finally.
Ark: Extinction will be available today on PC (with a console release to follow on Sunday), and can either be purchased standalone or as part of the three-DLC Season Pass. You'll be forking out around £14.99 for Extinction on its own, depending on platform, while the Season Pass will set you back about £34.99. It's currently discounted to £22.74 on Steam, however.
And if you've yet to experience Ark: Survival Evolved after all this time, PC players can get a taste of the action for free right now until November 11th. The download includes the original Island map, plus free additions Ragnarok and The Center. The base game can also be picked up for £18.00 at present, instead of £44.99, if you're sufficiently taken.