Argos offering PlayStation Vita 3G, two games, memory card for £140
Available until Tuesday.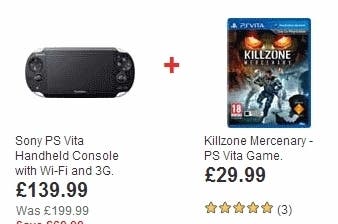 Fancy picking up a cheap PlayStation Vita Wi-Fi and 3G model with two free games and an 8GB memory card for £139.99? Argos currently has you covered.
The retailer is offering the handheld accompanied by free copies of Killzone Mercenary and Virtua Tennis 4. And you get the memory card too.
The offer is only available until Tuesday, 22nd October, but there are several other options to choose from which will linger longer. One example includes a Vita with FIFA 14, Killzone and a year's PlayStation Plus for £189.99.
Sony dropped the Vita's UK price at the end of August ahead of September's Vita redesign announcement.
Slimmer and lighter, the new Vita 2000-series model has an LCD screen rather than an OLED one. It launched in Japan last week, although there has been no mention of a Western release.