Anthem reportedly set for major overhaul as BioWare looks to reboot its troubled game
But there's no timeline for delivery yet.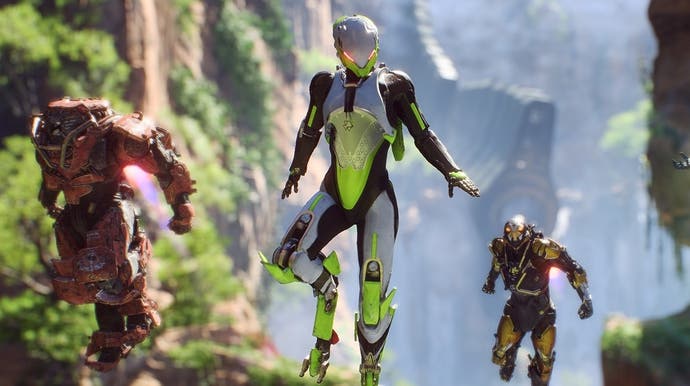 Since its rocky launch in February, BioWare's online shooter Anthem has struggled to spin its story into a positive one, particularly in light of continued development difficulties and the departure of high-profile team members. However, despite persistent speculation that BioWare and publisher EA might quietly abandon the game, the developer is reportedly now looking to massively overhaul the experience ready for a future reboot.
According to a Kotaku's Jason Schreier, plans to overhaul the troubled shooter have been in the works for some time. Eurogamer has previously heard similar word from its own sources.
Kotaku says the project is referred to as both "Anthem Next" and "Anthem 2.0", and as those names suggest, the scope of BioWare's intended plans are substantial, with the developer reportedly leaving little untouched. Changes to loot, quests, difficulty, progression, the world map, social elements, and possibly even the entire game structure have all been mooted.
According to one source, BioWare teams in both Austin and Edmonton have spent several months "just tearing [Anthem] down and figuring out what needed to change fundamentally (a lot)." Work on implementing those changes is said to have been ongoing for months too.
Although specifics are still hazy (a source said there's "lots of testing things out and experimentation but still nothing concrete"), one person told Kotaku that BioWare may attempt to separate its map into smaller chunks to enable the team to play around with each one more freely without the constant worry of introducing map-wide bugs.
Additionally, it's giving consideration to "what a mission technically is", which could see Anthem abandoning the need to return to Fort Tarsis at the end of each quest to better integrate the disparate parts of the game.
There's currently no timeline for the advent of Anthem 2.0, however, and discussions are still ongoing about how such a significant overhaul might be delivered.
Options include smaller updates to the current game over an extended period of time or as one large update, and there's reportedly even talk of launching it as a brand-new game, albeit not one that current players would be expected to pay full-price for.
In a recent community update, BioWare's head of live services Chad Robertson told fans that the developer had heard their "concerns on core issues in Anthem and are acting on it", but that addressing these points would require "a more thorough review and re-working [of systems] versus quick fixes", aligning with today's report.
With no official word on a potential Anthem reboot, however, it maybe some time before we learn if declarations of the game's demise have indeed been greatly exaggerated.
As for BioWare's other projects, Kotaku reports, perhaps surprisingly given Andromeda's reception, that a new Mass Effect game is in "very early development" at the studio's Edmonton office, with long-time producer Mike Gamble said to be serving as director. Meanwhile, work continues on the previously announced Dragon Age 4.