Anthem Legion of Dawn - how to get Legion of Dawn armour and redeem other pre-order bonus items
How to claim your Legion of Dawn gear when you start Anthem.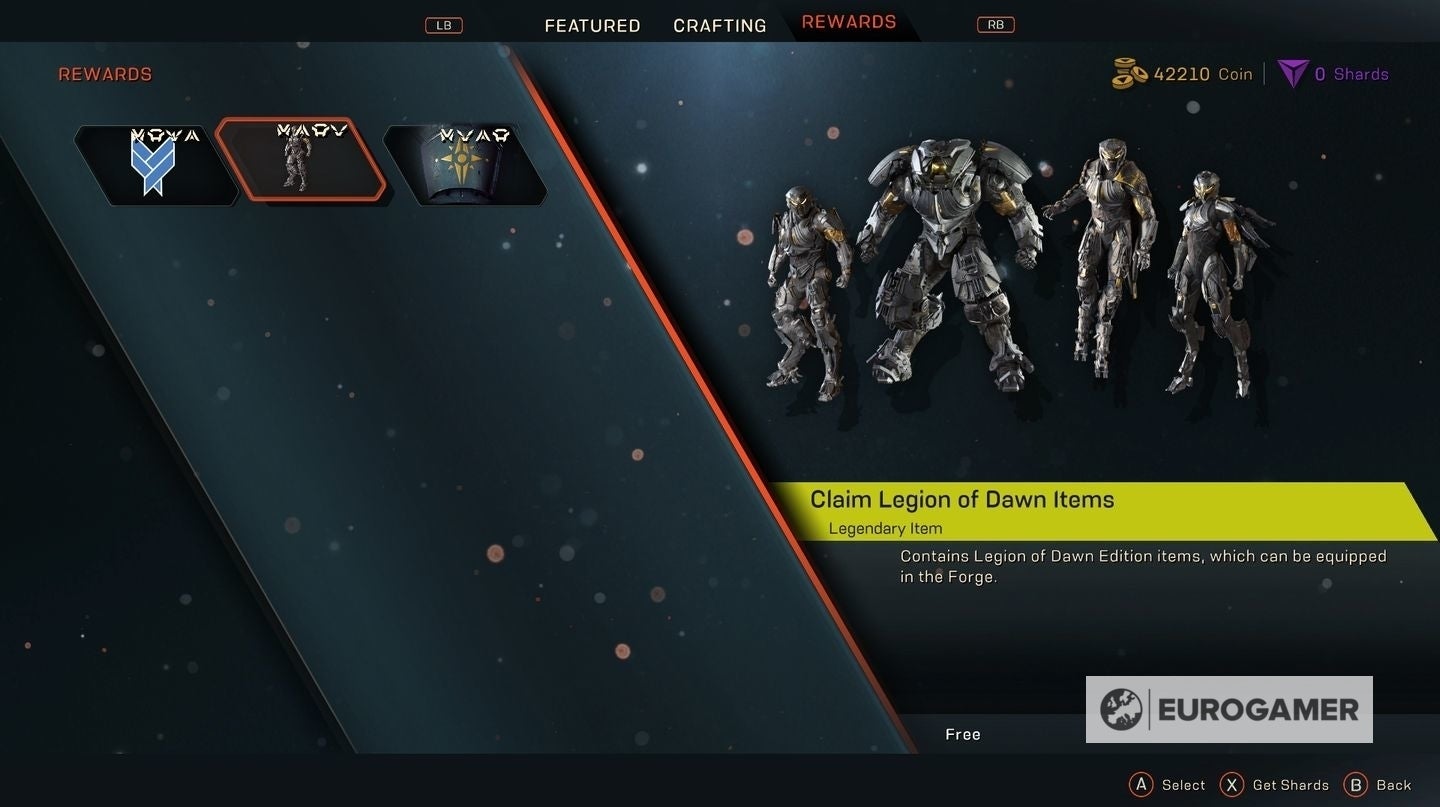 Legion of Dawn items are the main incentive for picking up Anthem's flashier versions or pre-ordering the game, but once you actually get started it isn't entirely clear where you can find them - or any other pre-order bonuses you might have acquired along the way.
Here's a quick explainer then on how to get Legion of Dawn armour in Anthem once you've got going in the game.
On this page:
How to get Legion of Dawn armour in Anthem and where to equip it
If you purchased the Legion of Dawn Edition of Anthem, then once you reach the right point in-game the Legion of Dawn armour, weapons and gear that you purchased should become available.
To claim the Legion of Dawn armour and items in Anthem, you first need to complete the game's tutorial missions, and talk to a character named Prospero in the market area of the Fort Tarsis hub. You'll need to complete a quick mission for him, and then you can claim that armour and any other pre-order bonuses and items for use.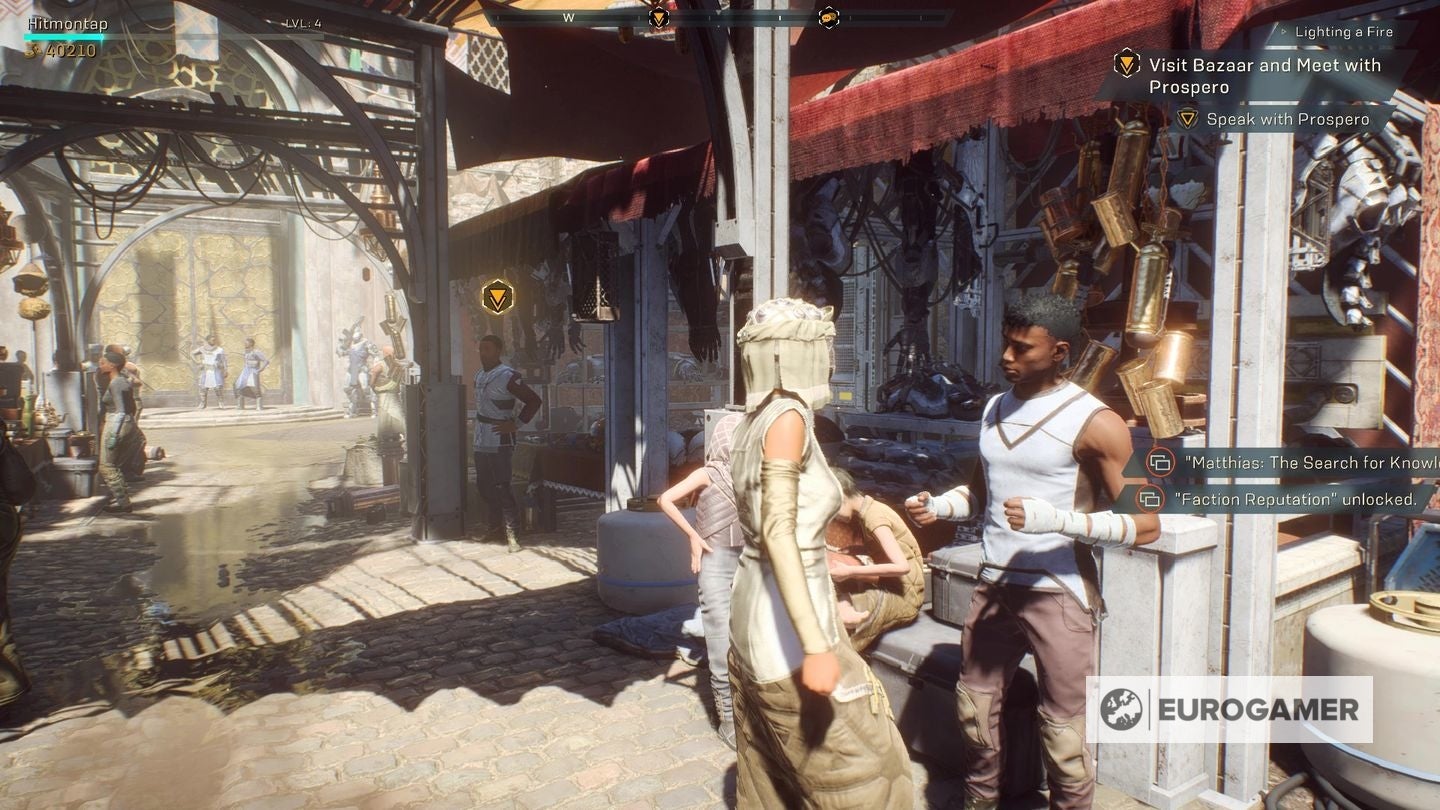 Specifically, you need to complete the Lost Arcanist mission, and when you return to the Fort Tarsis hub speak to Tassyn, Yarrow and Matthias. Listen to Yarrow's story and watch the cutscene, and then you'll receive a new objective: Visit the Bazaar and meet with Prospero, as part of the next mission, Lighting a Fire.
You'll find Prospero in that short stretch of market stalls in front of your Javelin - there'll be a handy waypoint once you get the quest - and then you need to talk to him to receive the Lighting a Fire mission objective: head into Freeplay and find three Ember Pieces. We have a handy guide to Anthem Ember Piece locations and how to get Embers if you're having trouble, but it's not too tricky!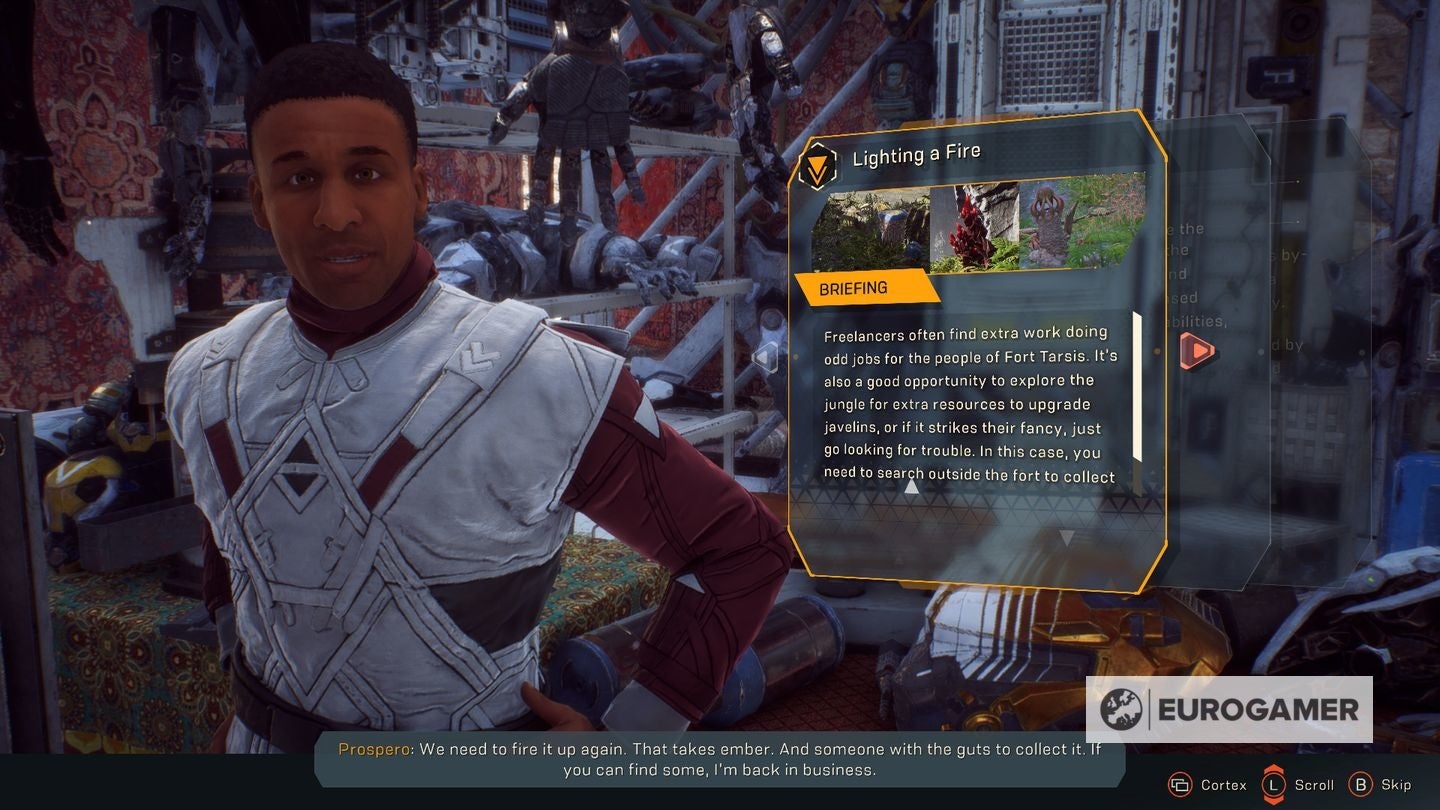 Return to Prospero once you've found three Embers, talk to him again, and Crafting will be unlocked. With that, you can access your Legion of Dawn armour and gear at last. It's in the Rewards tab of the Vanity store, which is at Prospero's market stall.
Where to equip your Legion of Dawn armour and bonus items
Once you've claimed them from the Rewards section of the Vanity Store (anything you've claimed will have a green check mark over it in that tab), you need to head to the Forge.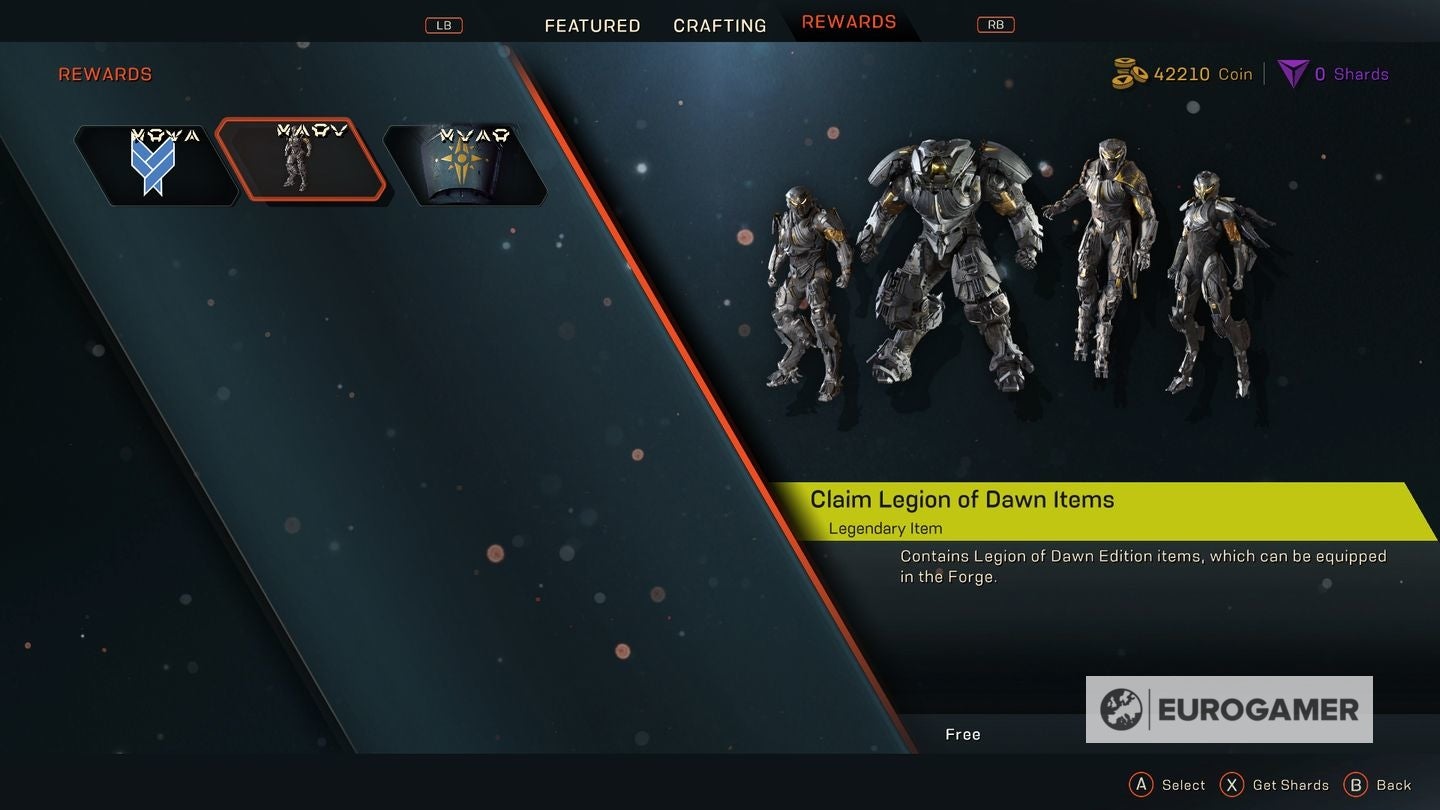 From there, the Legion of Dawn items are all equippable in the same way that you equip everything else. In other words, you have to do it manually, going into each section of your suit's visual customisation, finding the Legion of Dawn Helmet, for instance, and then even in the paintwork section finding Metal for the texture, and then choosing a colour of your choice.
It takes some time to get it how you like it - but that's always the way with Javelin customisation in Anthem, and is part of the fun of it, after all - but by the end you should have a pretty rad looking suit. Enjoy showing it off!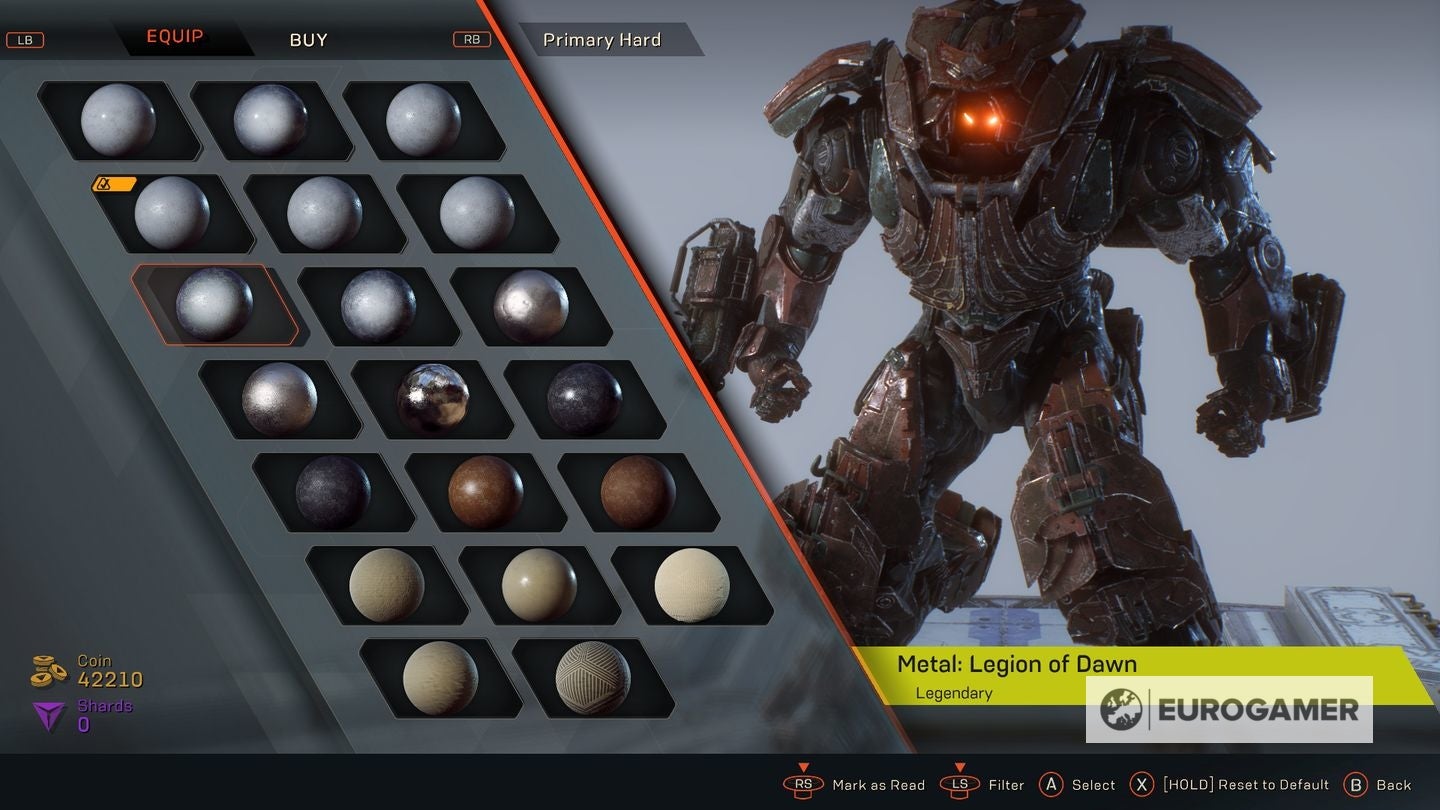 ---
Looking for more Anthem explainers like this? Our Anthem tips page is a great place to start, or our Anthem guide and walkthrough mission list hub, which has all our Anthem pages in one place, including in-depth looks at Anthem Javelin classes, how to unlock Javelins and some Colossus, Storm, Interceptor and Ranger builds, another in-depth look at Combos, Primers and Detonators and Elemental Effects and debuffs explained, or specific advice on how to Deactivate the Barrier for the Triple Threat puzzle solution. Here's where to find Anthem Collectibles, Anthem Ember Pieces and Anthem Treasure Chests, and how to get your Anthem Legion of Dawn armour and other pre-order bonuses, how the Anthem Alliance system works too. Finally, for levelling and grinding, here's an explainer of Anthem Pilot Level, XP and how to level fast, Anthem loot, gear, and the loot system explained and finally a deep-dive on Anthem Masterwork and Legendary gear explained, a Masterwork list and how to farm them.
---
What's included in the Legion of Dawn Edition and other Anthem pre-order bonuses listed
If you want to check what exactly you got with your pre-order or special edition, here's a quick rundown of all the possible bonuses you can get, as per EA's own listings, so you can be sure you've definitely claimed everything you're entitled to.
What you get with Anthem Legion of Dawn Edition:
Legion of Dawn Ranger, Colossus, Storm and Interceptor Exosuit Armor Packs and Legendary Weapon

Each Legion of Dawn armour set contains a Helmet, Torso, Arms, and Legs for your Javelins.
Your legendary Ranger weapon Light of the Legion can be viewed in the Vault and equipped at the Forge.
Your Legion of Dawn vinyl and metal can be applied through the Appearance tab of the Forge.

Ranger Javelin Exosuit Legendary Gear Attachment

Your Fist of the Mountain Assault Launcher can be equipped on your Ranger at the Forge.

The Anthem Digital Soundtrack (available February 22nd)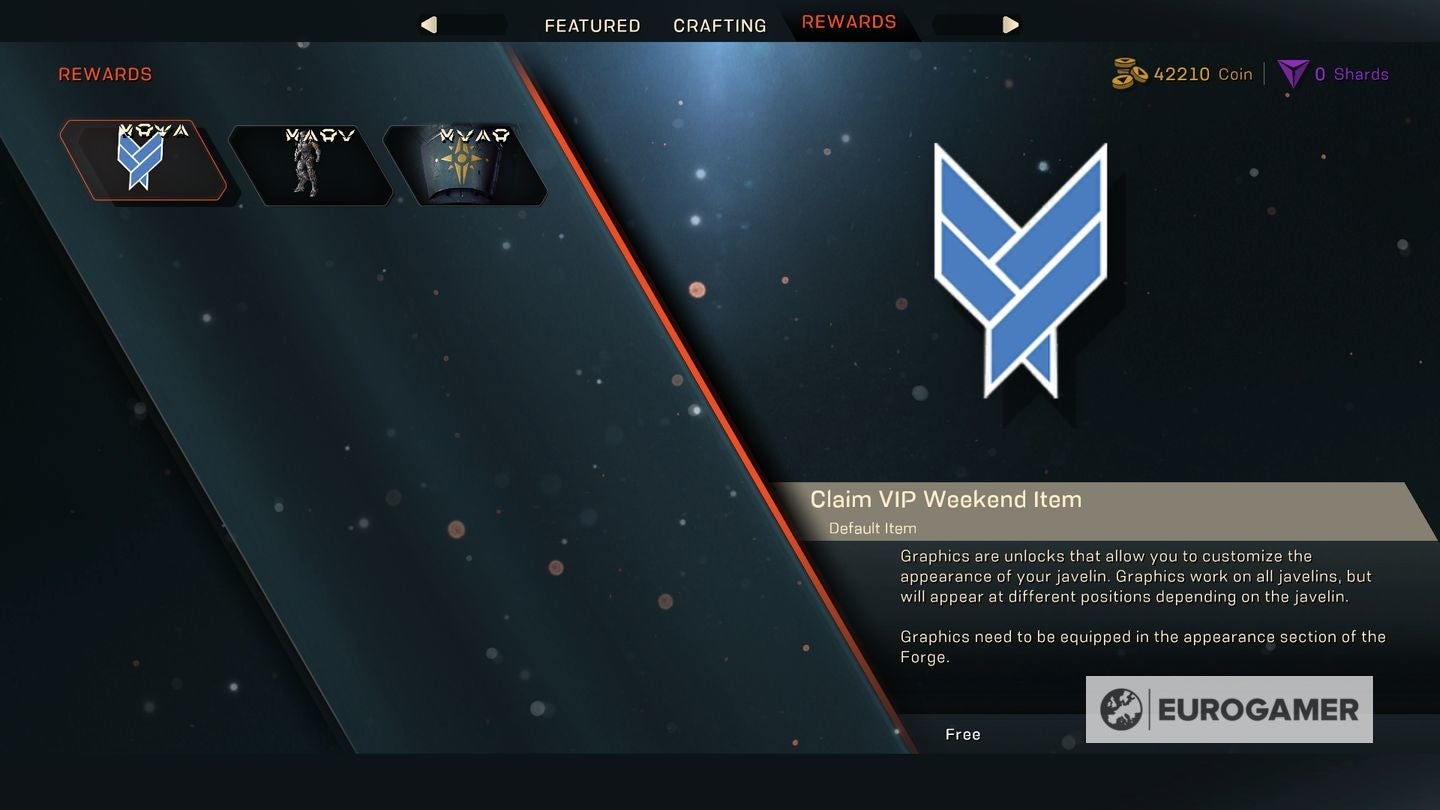 Anthem pre-order bonuses:
Legion of Dawn Ranger Armor Pack and Legendary Weapon

Your Ranger armor pack contains a Legion of Dawn Helmet, Torso, Arms, and Legs for your Ranger Javelin.
Your legendary Ranger weapon Light of the Legion can be viewed in the Vault and equipped on your Ranger at the Forge.

Founders Player Banner

To equip your banner head to the Squad Screen and select your callsign at the top of the list.
Choose the Modify Banner option.
Select a banner to equip it.
Other Anthem bonus items
GameStop exclusive pre-order reward: Edge of Resolve vinyl
ASUS exclusive vinyl: Wildwood vinyl
Origin Access / EA Access: Lone Wolven vinyl
VIP pre-launch demo rewards: Vigilance vinyl (graphic); Guardian of the Fort vinyl (graphic)
Newsletter sign-up: Founder's Banner
Will you support Eurogamer?
We want to make Eurogamer better, and that means better for our readers - not for algorithms. You can help! Become a supporter of Eurogamer and you can view the site completely ad-free, as well as gaining exclusive access to articles, podcasts and conversations that will bring you closer to the team, the stories, and the games we all love. Subscriptions start at £3.99 / $4.99 per month.