An Animal Crossing player says he's about to become the world's first self-made "bellionaire"
Elon Muskrat.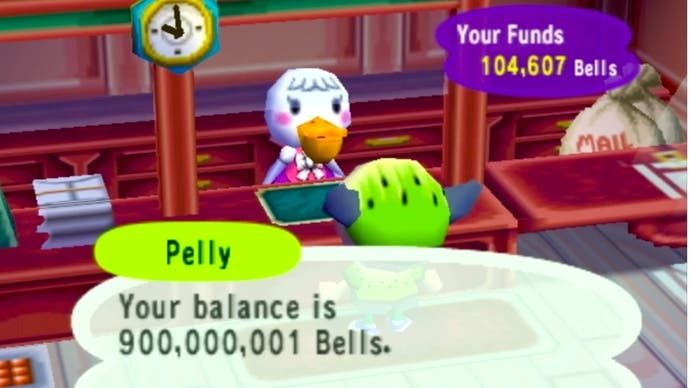 Animal Crossing fans are eagerly awaiting the arrival of New Horizons, and aside from drawing wholesome fanart of Isabelle and Doomguy, it seems they now have something else to pass the time, as this week a rather special event is happening.
BrianMp16 is an Animal Crossing speedrunner who's undertaken a vast challenge: to earn one billion bells through legitimate gameplay, and then buy the game's most expensive item - a post office model costing 999,999,999 in savings. To do this, he's been playing the GameCube version of Animal Crossing for over 170 hours and earning bells by "play[ing] the Stalk Market" and shifting massive amounts of turnips. He estimates the entire process will take him about 180 hours, a historic feat he's set to achieve this Friday.
"Since Animal Crossing was released on September 16th, 2002, players worldwide have legitimately acquired every possible item in the game except one - the Post Model," BrianMp16 explained on Reddit. "This item has been considered the holy grail of Animal Crossing games due to the overwhelming amount of time and effort needed to get it by maxing out your bank account."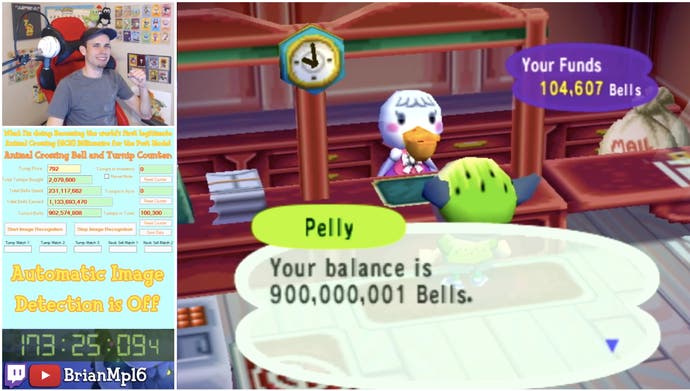 Despite the hefty price tag on the Post Model, it's technically quite easy for most players to acquire: simply entering the correct Nook Code will land you the item, although that obviously eliminates the challenge of earning it. Other players have managed to buy the Post Model before using glitches, such as Coldeggman and Runnerguy2489, but BrianMp16 wanted to do it the hard way.
"It's always been my dream to legitimately obtain every item in the game," BrianMp16 said in an FAQ on the topic. "I have legitimately obtained every other item in the game (including the Mailbox at 100,000,000 bells) so this is the final item. And the fact that no-one has ever done this before is an added incentive.
"Additionally, it seems fitting to finally 100 per cent this game legitimately as a goal in preparation for New Horizons release on March 20, 2020."
As for why nobody had completed this challenge before, BrianMp16 theorised it was due to the ease of using Nook Codes, as "no one has justified spending hundreds of hours to obtain an item they can get in a few seconds.
"I know a handful have tried but have either given up or resorted to glitches. I can understand, it's very defeating spending seven hours buying turnips only to sell back at a loss."
It's just as well BrianMp16 has an incredible sense of determination, too, as at one point he was selling turnips at a loss for 20 hours.
Some of the Stalk Market techniques used to reach this stage may sound familiar to Animal Crossing players, but BrianMp16 explained he took this to another level - going beyond "a couple million here or there" to buying turnips for many hours straight, and then doing the same to sell them - something he described as "an incredibly difficult and time consuming process". BrianMp16 said he also figured out a way to predict turnip prices "using the items available to buy in Nook's on a given day", and plans on making a roundup video after achieving his goal.
If you want to watch the moment live, BrianMp16 will be streaming the event this Friday at 10pm UK time on his Twitch channel, where he should hopefully rack up the last few bells required to earn his place as a self-made Animal Crossing tycoon. Tom Nook is sure to be proud.