Fab rhythm game Voez, Switch's first touchscreen-only title, just got controller and TV support
Ten months after release.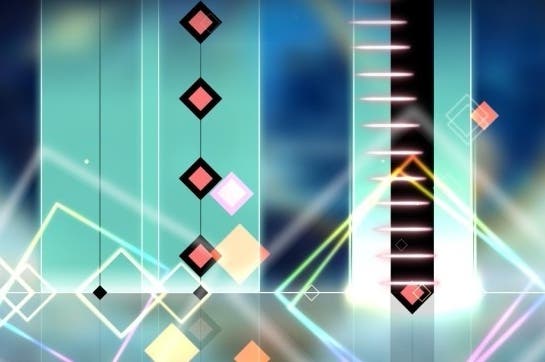 Splendid rhythm game Voez, Switch's very first touchscreen-only title, has just been updated with controller and TV support, ten months after it arrived on the platform.
Voez was a bit of an oddity when it emerged as a launch title for Switch, given that the console's unique selling point was its ability to function interchangeably as both a portable and home console. Its touch-only set-up was a result of its mobile origins though, and was hard to begrudge, seeing how brilliantly Voez utilises its tactile control scheme.
Voez (as I might have mentioned, probably repeatedly, before) is a wonderful rhythm game. It features 160 genre-bending pop songs, all brought to life with exhilarating beat patterns and stellar visualisations. It's a hypnotic combination, doing a brilliant job of drawing you right into its music as colour and light burst from your fingertips with every touch.
Voez's 1.3.1 update, which launched today (and coincides with the game's physical release in Japan), changes its focus somewhat. Now, you have the option to play along with songs using button inputs rather than your fingers. That means you can finally use your Joy-Cons in portable mode, or even hook the game up to a big-screen TV if you prefer.
It's certainly a welcome feature, and a rather brave experiment given how fundamental touch controls were to the original experience. Unsurprisingly though, the optional new button inputs do rob the game of its charm a little, simplifying systems and putting distance between your interactions and the mesmerising sound and light show at the heart of the game.
Now, you're simply required to tap or hold any of the Switch's face buttons when a note hits the bar at the bottom of the screen, and flick the control stick left or right for swipe inputs. It's a less challenging, more streamlined experience with buttons, from what I've played so far, but there do look to be a few strategic kinks in learning where best to deploy your fingers when multiple notes demand your attention simultaneously.
It mightn't be a revelatory update then, but it does introduce some welcome flexibility to the core game. And it's yet another example of publisher Flyhigh Works' brilliant dedication to Voez - a game that's now received more than 40 free songs since its Switch release.