Stellar Switch rhythm game Voez is getting 14 new songs in its free 1.3 update
UPDATE: A trailer demoing every new song is here!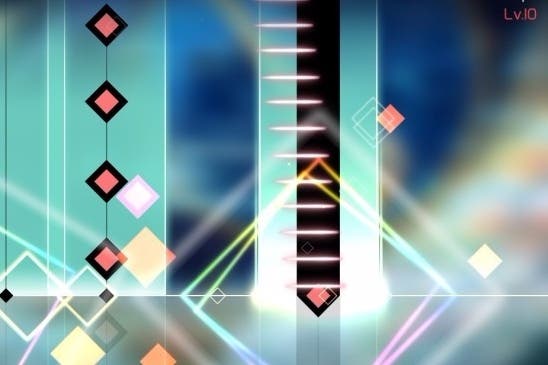 UPDATE 8/11/17: Publisher Flyhigh Works announced last week that its superb rhythm game Voez would receive 14 news songs on Switch in a free update tomorrow, November 9th.
The only thing we didn't know at the time, was what those songs (which will bring the total track list up to 160) would actually be. We can finally stop wondering, though! Flyhigh Works has released a trailer demoing all 14 new songs, and you can watch it below.
---
ORIGINAL STORY 2/11/17: Superb rhythm game Voez is getting another free update on Switch next week, and it will add 14 new songs to the game's already extensive track roster.
Voez's 1.3 update is due to arrive next Thursday, November 9th, and publisher Flyhigh Works has revealed two of the 14 incoming tracks. These are '25 Color Twilight' and 'Promise from Another World', and there's the briefest peek at them in Flyhigh Works' recent news update video. Just skip to the 16:20 mark below.
If you've not yet had the pleasure, Voez is an absolutely fantastic, mesmerising rhythm game. It's entirely touch-based (although Flyhigh Works recently announced that controller input will be added at a later date) and masterfully blends catchy genre-spanning Japanese and Korean pop with exhilarating beat patterns and stellar visualisations. All of which comes together to look something like this:
Voez started life as free-to-play mobile game, and pay-to-play songs are added to that version on a regular basis. The Switch version, however, launched with 116 complete songs included in its £20-ish price. Two updates since then have increased the roster to 146, and the 14 new tracks brings the total up to 160, making that £20 look even more reasonable.
Flyhigh Works usually reveals the full track listing for each new Voez update in a video prior to launch, so I'll update the story if and when that finally arrives.