Glorious rhythm game Voez gets 16 free new songs on Switch
The 200-track milestone has been surpassed!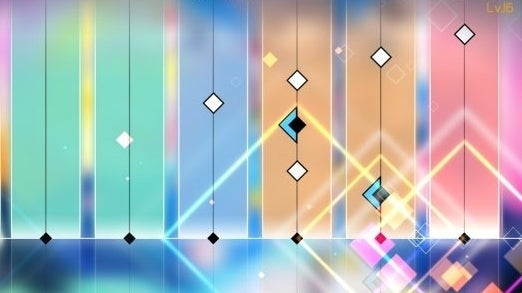 Developer Rayark is updating its superb Switch rhythm game Voez once more, this time adding 16 free new songs to the already gargantuan 185-strong track list.
Version 1.6, as the update is known, pushes Voez's song roster over the 200 mark, doubling its size since the game's launch on Switch in March 2017 - not bad for an initial outlay of £20, particularly given that all updates have been completely free.
You can hear snippets from all 16 new songs - which cover a fairly diverse range of genres, from perky pop and techno to lilting ballads and metal - in the announcement trailer below.
Voez, if you've not yet had the pleasure, is a fantastic rhythm game, and my personal favourite example of the genre on Switch - a console not exactly lacking in top-notch music games, thanks to the likes of Superbeat: Xonic, Deemo, Taiko no Tatsujin, and Thumper.
Voez's genre-spanning song roster is accompanied by some wonderfully hypnotic visualisations, which really draw you into the music, particularly when playing on the touchscreen where shapes and colours burst from your fingertips with every tap, stroke, and swipe. Here's a nice example of everything working in glorious unison, if you're curious:
Voez's Version 1.6 update will be available to download soon, and is free for all existing owners on Switch. The full game is £18.99 on Nintendo's eShop (a physical version also exists), and there's even a demo if you fancy doing the ol' try-before-you-buy.