A Vive Pro will cost £800, Vive reduced to £500
VR not having enough savings.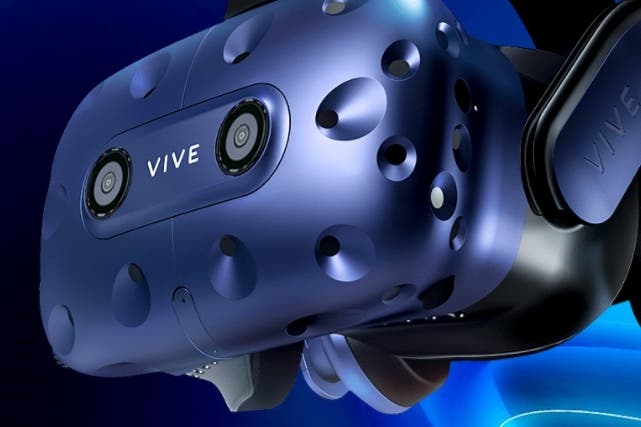 The new and improved Vive virtual reality headset - the Vive Pro - will cost £800 and will begin shipping 5th April. Pre-orders are open on the Vive website and at various retailers now.
The existing Vive VR headset, meanwhile, will be reduced in price to £500.
The Vive Pro most notably leaps to 2880x1600 resolution from the existing headset's 1080x1200, but also has built-in headphones with noise cancellation and a redesigned head strap.
The Vive Pro works with SteamVR Tracking 1.0 and 2.0 so you only need replace the headset if upgrading from a first generation Vive.
Today we announced that the HTC Vive Pro™ Head Mounted Display (HMD) will be available for $799 with global pre-orders starting now.

The company also announced a $100 price reduction for the current Vive full kit.

Get all the details here - https://t.co/8scGbKE9le pic.twitter.com/jxldmU3B2a

— HTC VIVE (@htcvive) March 19, 2018
HTC Vive launched two years ago as the high-end virtual reality device, with a launch price of £690 - later bumped to £760 because of the lowered GBP value following the Brexit vote. HTC sliced £160 off the Vive asking price in August 2017.
Oculus Rift, Vive's PC VR competitor, launched at £500 in the UK but without any packed-in controllers. Oculus Touch, as the controllers are known, came later. These days you can get an Oculus Rift plus Touch bundle for around £400.
PlayStation VR, the other major VR gaming headset on the market, launched at £350, and can be picked up today for around £200.
Oculus hasn't revealed plans for a Rift 2 generational leap yet but has announced an all-in-one, no computer needed, VR headset called Oculus Go. Sony, meanwhile, is subtly improving PSVR hardware to replace the model currently on sale.