Oculus is launching a low-cost, all-in-one VR headset next year
No PC or mobile device required.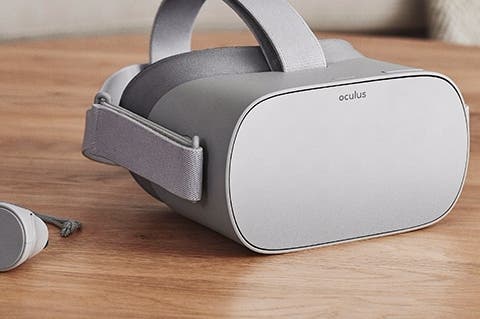 Oculus will launch a new low-cost, standalone VR headset early next year, Facebook CEO Mark Zuckerberg announced at today's Oculus Connect event in San Jose.
Oculus Go, as the new "super lightweight" headset is known, is designed to be as affordable and accessible as possible, positioned somewhere between the Oculus Rift and Gear VR.
The Oculus Go will cost $199 (likely around £199 if the Rift's UK price conversion is any indication) and crucially won't require a separate PC or mobile device to function. Oculus says it will include a fast-switch LCD display with 2560x1440 resolution (designed to increase visual clarity and reduce screen door effect), integrated audio, and "next-gen" lenses offering "a wide field of view with significantly reduced glare".
Elsewhere during the show, Zuckerburg announced that the Oculus Rift will be getting a permanent price reduction, with the Rift and Touch controller bundle dropping from $499 to $399. In actuality, this keeps the Rift at the same price it's been throughout Oculus' Summer of Rift promotion. As such, the bundle's new permanent price should be £399 in the UK.
In other Oculus-related news, today's event saw the unveiling of a revamped in-headset hub for the device. Known as Rift Core 2.0, the overhaul includes a swish new interface, which basically turns the system's menus and key functions into a Minority-Report-esque flick-a-thon, and new customisable home environments.
Functioning in a similar way to SteamVR Home, your in-headset surroundings can be fully personalised with toys, furniture, and artwork, and will operate as a persistent space, meaning that you can invite friends over for some virtual reality socialising. Rift Core 2.0 will launch as a free beta update for everyone this December.
All of this sounds like great news for VR; cheaper, more accessible devices should, in theory at least, lead to greater market penetration, which should in turn result in better developer support for VR further down the line. I might even have to stop referring to my Rift as my Elite: Dangerous bonnet if all goes as Zuckerberg plans.