Zelda: Breath of the Wild image confirms fan-favourite character
And another Wind Waker reference.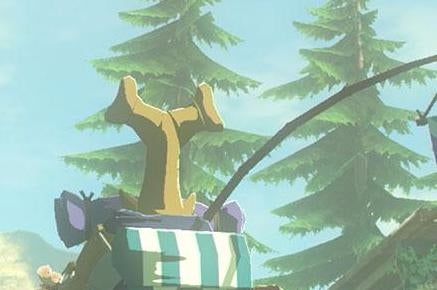 The Legend of Zelda: Breath of the Wild will feature another familiar face from the series so far - and another reference to fan-favourite game Wind Waker.
Yes, Wind Waker shopkeep Beedle is indeed back for Breath of the Wild.
He's been spotted in the distance before, but now Game Informer has posted our first clear image. The wandering merchant can now be found carrying his wares in an enormous backpack.
Note the shopfront-style visor to keep the sun from his eyes, and the beetle-shaped pack in reference to his name.
Beedle first appeared in Wind Waker, then returned for its direct sequels Phantom Hourglass and Spirit Tracks.
His appearance in Breath of the Wild doesn't specifically place the Wii U/Nintendo Switch adventure within the Wind Waker timeline - Beedle also appeared in Skyward Sword, which acted as a prequel to the whole franchise.
But it's yet another reference to the Wind Waker story within Breath of the Wild - which already features the Great Deku Tree, bird-like Rito race and Korok tree creatures.
Fans are currently speculating that Breath of the Wild is a sequel to Wind Waker - and features a version of Hyrule which has now been drained of ocean.