Zavvi threatens customers with legal action after accidentally sending free Vitas
UPDATE: Which? offers legal advice, and it's not looking good.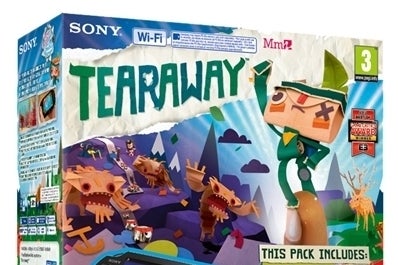 UPDATE: Consumer watchdog Which? has told Eurogamer that it believes customers will have to return the PlayStation Vita consoles sent in error by Zavvi.
"If a consumer has received goods by mistake then they are not legally entitled to keep them," a Which? spokesperson explained, contradicting some of the advice offered below from other sources.
And, should Zavvi follow through on its threat and sue customers, Which? believes that a UK court may actually side with the retailer.
"In any legal action the ruling is likely to be that the item should be returned because it was sent in error," the company concluded.
The final deadline has now passed for customers to return their PlayStation Vitas. Its unknown how many remain in the wild.
Zavvi has yet to respond to Eurogamer's repeated requests for comment.
ORIGINAL STORY: Online retailer Zavvi has warned it may take legal action against customers who were mistakenly sent a PlayStation Vita.
A number of customers who ordered a £19.99 copy of Vita game Tearaway were instead sent a PlayStation Vita and Tearaway bundle - which retails for £149.99.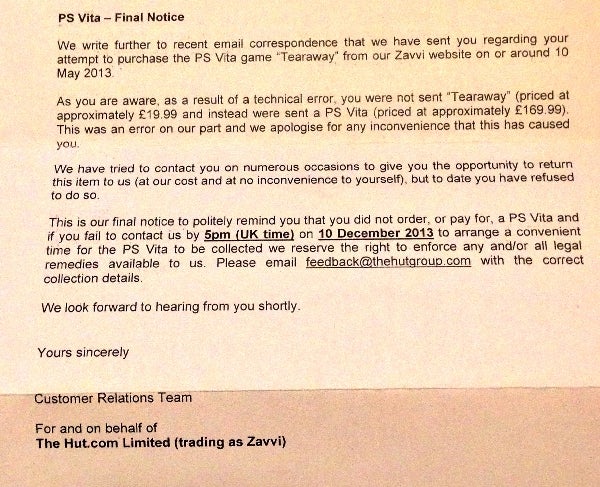 After realising its mistake, Zavvi emailed those affected to inform them of the error - and ask that they give up the entire package to send it back.
"We are very sorry to inform you that due to an error in our warehouse we have dispatched the incorrect product," an initial email said (posted online by Darkzero).
"We are contacting you in order for us to arrange a collection of the incorrect item which is on the way to you. If possible, please keep the parcel in its original packaging ready to hand back to the courier."
Zavvi has now sent out a "final notice" to customers regarding the issue and stated that anyone affected must contact them by 5pm UK time today, 10th December, to arrange a courier to pick the item up.
"This is our final notice to politely remind you that you did not order, or pay for, a PS Vita and if you fail to contact us by 5pm (UK time) on 10th December 2013 to arrange a convenient time for the PS Vita to be collected we reserve the right to enforce any and/or all legal remedies available to us," Zavvi wrote.
"Please email feedback@thehutgroup.com with the correct collection details. We look forward to hearing from you shortly."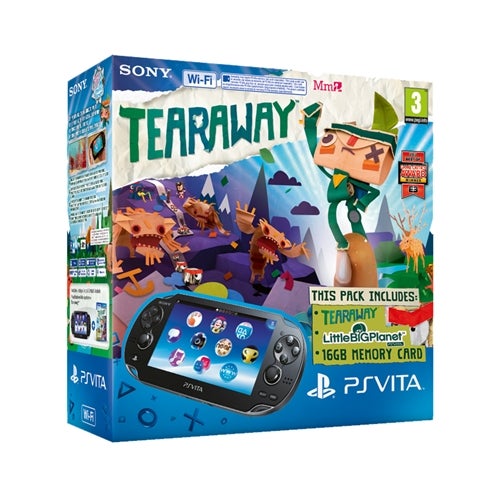 But customers do not necessarily have a legal obligation to return items sent to them in error.
Consumer advice website What Consumer states that, according to the Distance Selling Regulations: "if you've been sent unsolicited goods, you are entitled to treat them as an unconditional gift and do with them as you choose.
"You are not required to keep them for any amount of time and you are certainly not required to pay for them. Any attempt to demand payment (by threatening means or otherwise) is unlawful."
The Citizen's Advice website suggests the situation is something of a grey area, however.
"The Consumer Protection (Distance Selling) Regulations say you have a right to keep goods delivered to you that you didn't ask for," the site states - suggesting that anything specifically sent to you may be kept. But the following paragraphs muddy the issue.
"But if goods are sent to you by mistake, you need to contact whoever sent them to let them know and ask them to collect the goods. You might get goods sent by mistake if they are meant for someone else or you've been sent duplicate or extra items on top of what you ordered.
"If you receive goods you have not ordered and which haven't been sent by mistake, you can treat the goods as an unconditional gift and you can do what you want with them."
Eurogamer is seeking advice from a consumer lawyer on the specifics of this case - we'll update when we have more information.
Zavvi has yet to respond to Eurogamer's request for comment.