XBLA hit Fez goes multiplatform in 2013
Have I got time for one more?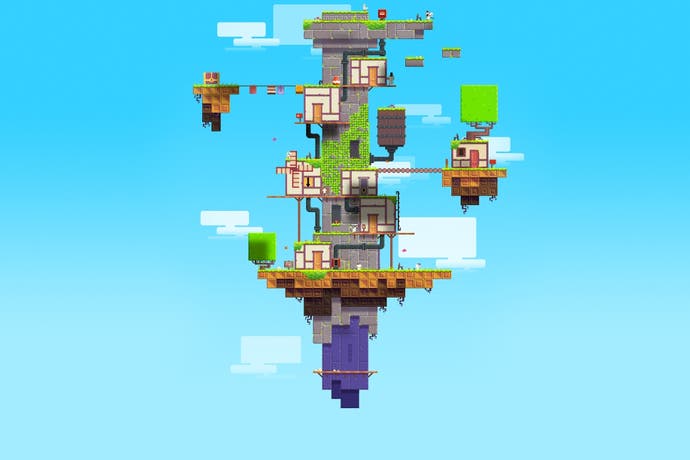 Xbox Live Arcade hit Fez goes multiplatform in 2013, co-creator Phil Fish has announced.
In a post on the Polytron website, Fish reflected on 2012, a year he describes as "crazy".
2012 saw the launch of Fez on Xbox Live Arcade after half a decade in development, the launch of Indie Game: The Movie, in which Fish starred, and a number of controversies surrounding the indie developer himself, including an online storm over comments he made to a Japanese developer at the Game Developers Conference, and Fish's high-profile refusal to patch Fez due to costs.
"We experienced abyssal lows, but also life-affirming highs," Fish wrote. "Life-changing highs. Really, really high highs. It took everything but we shipped the f***ing thing. And it was a success.
"It didn't break any records, but it made more than enough to let me keep doing what I do. So I'm afraid you're stuck with me for a little while longer."
Then, confirming the news about the wonderful puzzle platformer: "2013 is going to be an interesting one, too. For one, Fez will finally be ported to other platforms.
"Yes, I've heard you, dozens of people emailing me every day telling me how much of an idiot I am for not porting Fez to everything."
At this stage the additional platforms Fez will launch on remain unannounced, but PC, PlayStation, Wii U and mobile gamers will all be hopeful.
Meanwhile, Fish confirmed Polytron has "a couple of new games in the pipeline," but stopped short of detailing them.
He also suggested he may try his hand at something other than game development. "I want to design everything!" he said. "Maybe not a video game? Maybe something else entirely.
"I JUST DON'T KNOW."