WipEout co-creator's Table Top Racing: World Tour a timed PS4 exclusive
"The PlayStation platform is our spiritual home."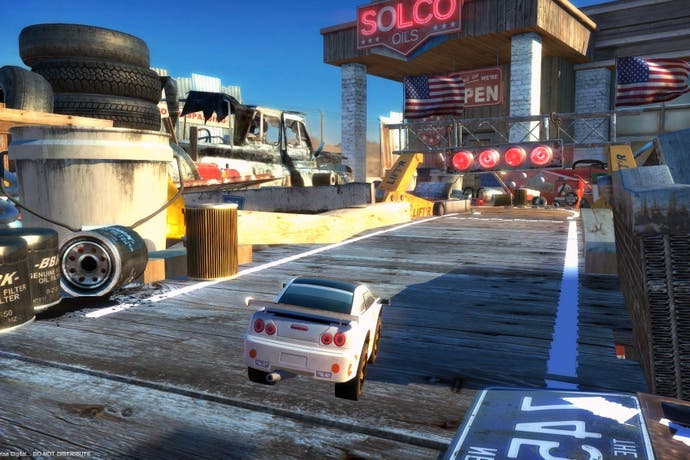 WipEout co-creator Nick Burcombe has announced Table Top Racing: World Tour - a timed PlayStation 4 exclusive.
Burcombe, who dreamed up the idea of futuristic racer WipEout with Psygnosis colleague Jim Bowers over a few drinks at the Shrewsbury Arms in Oxton, Merseyside, said Table Top Racing: World Tour is in the early stages of development for a raft of platforms, including PC, mobile and consoles - but it'll launch first on PlayStation 4 in Q4 2015.
Development is being led on PS4, Burcombe added. "With a long history of hit games for PlayStation over the decades, we feel that the PlayStation platform is our spiritual home and to make a return to console development, as an indie developer, feels like a dream come true."
World Tour marks the first time Burcombe has worked directly on a PlayStation home console title since 2007 PlayStation 3 game Formula One Championship Edition.
It's also the next version of the Micro Machines-inspired Table Top Racing series, which developer Playrise has seen substantial success with on mobile devices. The developers are using the Unity 5 engine to build World Tour, with four-player split-screen as well as online play a particular focus.
Unlike the mobile version of Table Top Racing, which switched from being a paid for app to free-to-play with in-app purchases, World Tour will be a premium game from the outset, Burcombe promised.
"We've had a steep learning curve on mobile," he told Eurogamer. "As the market swung from paid-apps doing well to free-apps all the way, we had to move and do something. Turning TTR free was a difficult decision and to be honest, with that wonderful benefit of hindsight, I wish we had just done a new version.
"Suffice to say, there won't be any F2P TTR:World Tour. It's going to be premium game, paid in-full with optional DLC for those that love it. If you pay more in, you should get more fun out. That's our goal for TTR:WT. No pay-to-win schemes, no wait-timers, no pay for lives, none of that stuff. It's just not what we got into indie dev for. We learnt some valuable lessons in the mobile space, but F2P is not for us. This will be the game we meant to make."
Burcombe spent 10 years at Psygnosis after joining as a game tester in 1988. He was the lead designer on the first WipEout game, which launched alongside the PSone in Europe in 1995, as well as its sequel Wipeout 2097/XL, and experienced the developer's transitional period after it was bought by Sony and renamed Studio Liverpool.
In 1998 he left to co-found N-Gen Racing and Quantum Redshift developer Curly Monsters (for more on Curly Monsters check out our article on the drama surrounding Quantum Redshift).
After Curly Monsters collapsed, Burcombe spent time at EA Warrington, which failed to ship any titles, before rejoining Studio Liverpool in 2004 to work on the Formula One franchise and game prototypes. He left in 2010 following a round of layoffs.
It was after this that Burcombe founded Playrise Games, initially helping other developers as a consultant before founding a small developer called Playrise Digital to make making a new racing game for mobile platforms.
That game was Table Top Racing, which launched on iOS devices in January 2013. An Android version released a year later, in January 2014. The Vita version went live in August.