Whoops, Cyberpunk 2077's streaming mode still contains a copyrighted song
CDPR says it's working on a fix.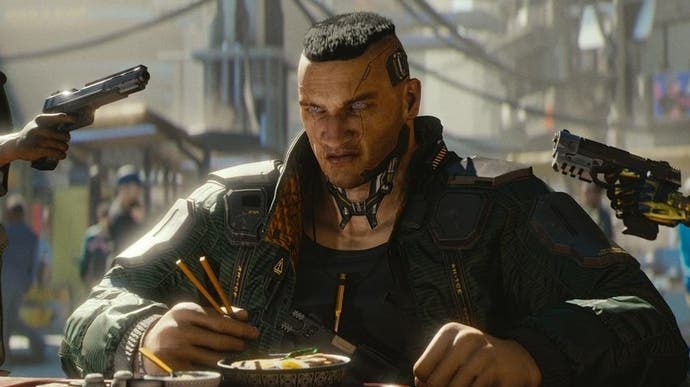 Ahead of Cyberpunk 2077's release, CD Projekt Red announced the game would feature a special mode to help streamers broadcast gameplay without fear of copyright strikes. Unfortunately, it seems one song slipped through the cracks, and CDPR has now asked streamers to turn off audio for those particular scenes.
According to CDPR's tweet, the song appears in the first two Braindance sequences. Even when the "disable copyrighted music" option has been turned on, the song will still play, and streamers could face a DMCA strike on their channel if they fail to mute the audio.
"While we work on fixing it, please make sure to turn the sound off during the first two Braindance sequences," the Cyberpunk 2077 Twitter account explained. "Apologies!"
We just noticed there's a song in the game which might put a DMCA strike on your channel even when playing with "Disable Copyrighted Music" option on. While we work on fixing it, please make sure to turn the sound off during the first two Braindance sequences. Apologies! pic.twitter.com/yfP6Tbdta0

— Cyberpunk 2077 (@CyberpunkGame) December 9, 2020
Obviously, this isn't ideal for the many streamers who will be broadcasting the game over the coming days, particularly given they'd previously been told the mode would protect them from copyright strikes. There's a chance many will simply not see CDPR's warning tweet, and remembering to turn off audio for those scenes is just a bit of a faff. Not to mention some streamers may also be trying to avoid showing the flashing lights in those same Braindance scenes, which have been identified as a potential epilepsy risk.
In response to pressure from the music industry, in October streaming platform Twitch started enforcing DMCA claims by issuing a wave of takedown notices to streamers. The company auto-deleted videos as it did so, all without clearing identifying which content had broken copyright rules (via Polygon). DMCA strikes are a particularly hot topic right now, but even before the recent wave of DMCA notifications, Twitch had a policy of banning accounts that repeatedly broke copyright laws.
In a follow-up blog post addressing those DMCA claims, however, Twitch mentioned that the company had only received a handful of DMCA notifications for in-game music, and the majority had been for music played over streams. So hopefully those streaming Cyberpunk 2077 won't get hit with any strikes before CDPR rolls out a fix, although it's still a risk.
If you're wondering just how well Cyberpunk is doing on Twitch, meanwhile, the game is currently sitting at 407k concurrent viewers, but yesterday it hit a peak of 1.14m viewers, placing it at six in the rankings for highest viewers ever on Twitch (via Twitch Tracker).