Watch Tales From the Borderlands' first in-game trailer
Starring Troy Baker as Rhys.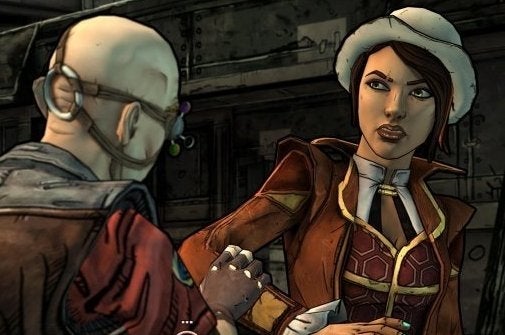 Telltale has released its first trailer showing in-game footage of Tales From the Borderlands.
Previously, it had only been shown off publicly in a pre-rendered announcement trailer.
Telltale also revealed the game's main cast. Playable characters Rhys and Fiona will be played by Troy Baker and Laura Bailey respectively, while the supporting cast will be rounded out by Chris Hardwick as Vaughn, Erin Yvette as Sasha, Patrick Warburton as Vasquez, and Dameon Clarke as Handsome Jack.
Tales from the Borderlands' season premiere, 'Zer0 Sum, will "soon be available " on PS4, PS3, Xbox One, Xbox 360, PC and Mac.
iOS and Android ports will follow before the end of the year.
Each episode will cost $4.99 (so about £3), or you can buy a Season Pass for $19.99 on consoles and $24.99 on PC and Mac.
I got a good look at Tales from the Borderlands at E3 earlier this year, where I was very impressed at how immediately appealing it was for someone who'd never played a Borderlands game before.