Sounds like Telltale's not making more Wolf Among Us or Borderlands any time soon
UPDATE: Telltale talks on each game's cliffhanger endings.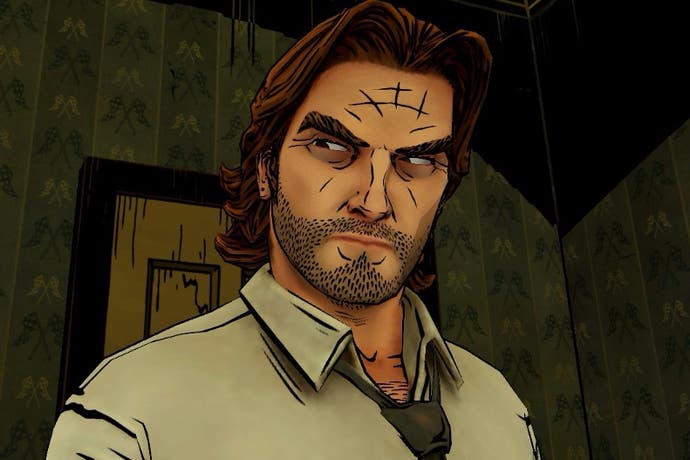 UPDATE 4.30pm: We asked Telltale Games what might happen to the cliffhangers for both The Wolf Among Us and Tales from the Borderlands, and the developer has now replied.
Telltale pointed us to a recent AMA from the studio on The Walking Dead's subreddit, where it fielded questions on its other series. Tl;dr - Wolf Among Us' cliffhanger will not be explained as it was left for fans to speculate on, while Borderlands is now back in the hands of Gearbox to choose whether the stories of Tales' characters are continued.
First up, The Wolf Among Us:
"We have been asked over and over again for some insight into the mystery at the end of the finale for TWAU. Something I've always wanted to admit is that while we do have a clear answer to who was who at the end of that story... we had also agreed to keep it a mystery for the fans to ponder on their own," Telltale's Job Stauffer wrote. "Definitely fun to see all of the theories pour out, and exciting to pay off our neon-noir story with a femme fatale twist.
"Should we ever continue in the world of Fables and The Wolf Among Us... it is generally agreed upon here that we wouldn't continue that storyline directly, and would leave things an open mystery that's better left unanswered...."
Now, Tales from the Borderlands:
"While there are currently no plans for us to continue the story on the Telltale side, we do know that our friends at Gearbox and 2K are hard at work on what's next for the Borderlands universe. We know that also means if anything happens Rhys, Fiona and the gang... the ball is in their court to see whether they will or will not be explored again in any possible future entry into that universe. We're big fans of Borderlands as well, obviously, so here's hoping Tales isn't the last we'll ever see of those characters!"
And there you have it - some form of closure, at least.
---
ORIGINAL STORY 3.30pm: It doesn't sound like there will be another season of Telltale's Tales from the Borderlands or The Wolf Among Us any time soon.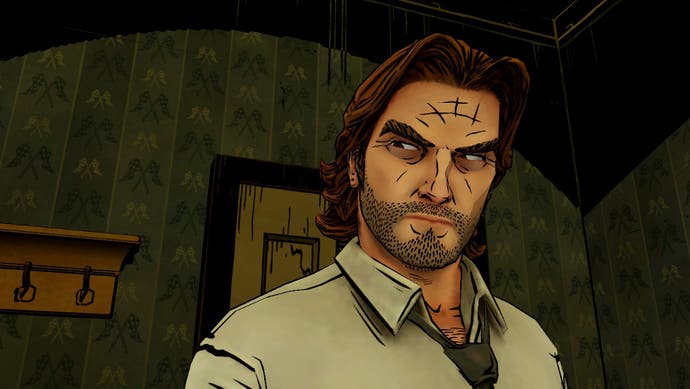 Writing on Twitter last night, Telltale's head of communications Job Stauffer addressed the fate of each fan-favourite game after rumours swirled ahead of the developer's Comic-Con appearance.
Yesterday, a VG247 report suggested a new The Wolf Among Us season would be announced this week at San Diego Comic-Con.
TellTale had teased an update during the event, and this tease was then retweeted by the voice actor behind The Wolf Among Us' Bigby Wolf.
The trouble is Adam Harrington, Bigby Wolf's voice actor, is also Kroger in Tales from the Borderlands, TorqueDawg in Telltale's Minecraft: Story Mode and Groot in Telltale's Guardians of the Galaxy. He voiced three roles in Telltale's The Walking Dead and even LeChuck in Telltale's Tales of Monkey Island.
In short, he's a Telltale regular - a fact Stauffer addressed last night.
"I worry about people getting their hopes up in the wrong direction," Stauffer wrote on Twitter. "Adam also voices Groot in our GotG. ;)"
It sounds like Telltale's San Diego announce is Guardians-related, then.
"We'd KILL to step back into that world [of The Wolf Among Us] some day and we know our fans would too," Stauffer continued. "Your voices and your passion will never go unheard here at TTG."
The lack of a second season of The Wolf Among Us is a shame - the first season was moody, well-written and suspenseful - but after three years and many other projects, another run would always have been unlikely.
The Wolf Among Us' conclusion hinted there was more to come - but this is not unusual in a Telltale game.
Tales from the Borderlands also teased a continuation, via a finale cliffhanger.
"As we've said before, we LOVE that project with all of our hearts," Stauffer stated regardling Borderlands. "But the next entry in the Borderlands story will be from Gearbox Software".
Gearbox is known to be working on Borderlands 3 right now, although it is still a way off. The game remains a mystery, without a formal announcement, final name or release date.
In other words, Telltale won't be revisiting Borderlands for quite some time.
Telltale's current release schedule is made up of its ongoing Guardians of the Galaxy and Minecraft series. Further ahead, it has another Game of Thrones season on the way, as well as its long-in-development new IP. A busy slate, then, without much room for other older, returning projects.
We've contacted Telltale to ask if either Borderlands or Wolf Among Us might wrap up their story cliffhangers in another way.