UK chart: London 2012 tie-in dethrones Lego Batman 2
Olympics the bane of Batman's existence.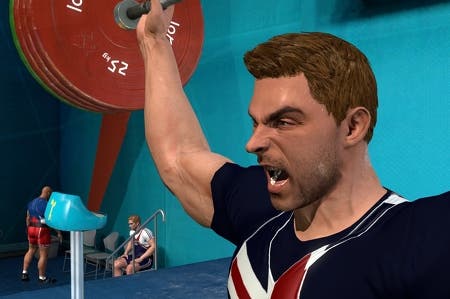 Sega's official Olympics tie-in London 2012: The Video Game has unseated Lego Batman 2 at the top of the UK all-format charts.
The UK-based sportathon's opening festivities helped boost London 2012 to the pinnacle of the UK top 40 after five weeks of release.
3DS and Wii tie-in Mario & Sonic at the London Olympics also received a boost, high-jumping up to third place after a marathon 38 weeks in the chart.
The only new release to chart this week was Pokémon Conquest, a strategy spin-off for Nintendo DS. It only managed 17th place, however, despite the arrival of the 3DS XL over the weekend.
Still, UK chart company Chart-Track has pegged the Pokemon series as the 10th biggest unit shifter of all video game brands over the last 15 years.
The rest of the top 10 remained largely static, with Ghost Recon: Future Soldier in fourth and Batman: Arkham City in fifth. Modern Warfare 3, Spider-Man, FIFA 12, Skyrim and Kingdom Hearts 3D rounded out the top flight.
The full top 40 lies below.
| This Week | Last Week | Title | Platform(s) |
| --- | --- | --- | --- |
| 1 | 2 | London 2012: The Official Video Game | PC, PS3, Xbox 360 |
| 2 | 1 | Lego Batman 2 | DS, PC, PS2, PS3, PSP, Wii, Xbox 360 |
| 3 | 8 | Mario & Sonic: London 2012 Olympic Games | Wii |
| 4 | 3 | Ghost Recon: Future Soldier | PC, PS3, Xbox 360 |
| 5 | 7 | Batman: Arkham City | PS3, Xbox 360 |
| 6 | 5 | Call of Duty: Modern Warfare 3 | DS, PC, PS3, Wii, Xbox 360 |
| 7 | 4 | The Amazing Spider-Man | 3DS, DS, PC, PS3, Wii, Xbox 360. |
| 8 | 10 | The Elder Scrolls 5: Skyrim | PC, PS3, Xbox 360 |
| 9 | 12 | FIFA 12 | PS3, Xbox 360 |
| 10 | 6 | Kingdom Hearts 3D: DDD | 3DS |
| 11 | 21 | Assassin's Creed: Revelations | PC, PS3, Xbox 360 |
| 12 | 9 | Max Payne 3 | PC, PS3, Xbox 360 |
| 13 | 24 | Mario Kart 7 | 3DS |
| 14 | 13 | Skylanders: Spyro's Adventure | 3DS, PS3, Wii, Xbox 360 |
| 15 | 11 | Dead Island: GOTY Edition | PC, Xbox 360, Xbox 360 |
| 16 | 23 | Battlefield 3 | PC, PS3, Xbox 360 |
| 17 | New entry | Pokémon Conquest | DS |
| 18 | 17 | Call of Duty: Black Ops | PC, PS3, Wii, Xbox 360 |
| 19 | 27 | WWE '12 | PS3, Xbox 360 |
| 20 | 28 | Super Mario 3D Land | 3DS |
| 21 | 19 | Tiger Woods PGA Tour 13 | PS3, Xbox 360 |
| 22 | 18 | Lego Pirates of the Caribbean | DS, 3DS, PS3, Wii, Xbox 360 |
| 23 | 14 | Sniper Elite V2 | PS3, Xbox 360 |
| 24 | 22 | Moshi Monsters: Moshling Zoo | DS |
| 25 | 30 | The Sims 3 | PC, PS3, Xbox 360 |
| 26 | 15 | Spec Ops: The Line | PC, PS3, Xbox 360 |
| 27 | 26 | Rayman Origins | PS3, Wii, Xbox 360 |
| 28 | 34 | Skate 3 | PS3, Xbox 360 |
| 29 | 32 | Prototype 2 | PS3, Xbox 360 |
| 30 | 16 | FIFA Street | PS3, Xbox 360 |
| 31 | 29 | Lego Harry Potter: Years 5-7 | 3DS, DS, PC, PSP, PS3, PS Vita, Wii, Xbox 360 |
| 32 | Re-entry | Just Dance 3 | PS3, Wii, Xbox 360 |
| 33 | 36 | Grand Theft Auto Episodes - Liberty City | PS3, Xbox 360 |
| 34 | Re-entry | Sonic Generations | 3DS, PS3, Xbox 360 |
| 35 | Re-entry | Lego Batman: The Video Game | DS, PS3, Xbox 360 |
| 36 | 20 | Saints Row: The Third | PS3, Xbox 360 |
| 37 | Re-entry | The Witcher 2 | PC, Xbox 360 |
| 38 | 35 | Need for Speed: The Run | PS3, Xbox 360 |
| 39 | Re-entry | Forza 4 | Xbox 360 |
| 40 | 25 | DiRT Showdown | PS3, Xbox 360 |