UK Call of Duty: Modern Warfare 3 price roundup
Online, supermarkets, shops, trade-ins, eBay.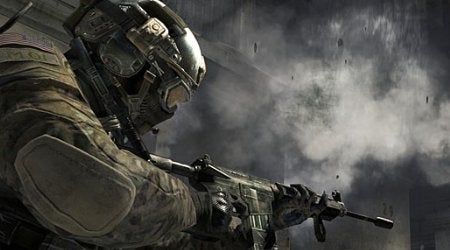 Call of Duty: Modern Warfare 3 launches tomorrow - Tuesday, 8th November 2011.
Where's cheapest?
BestBuy confirmed to Eurogamer an incredible base price of £29.99 for Modern Warfare 3 on PC, PS3 and Xbox 360. This price, however, is only available tomorrow.
HMV will sell you Modern Warfare 3 for £9.99 if you trade Uncharted 3, Batman: Arkham City, GoldenEye 007: Reloaded or Battlefield 3. Game will half the price of Modern Warfare 3 (to presumably £22.49) when you trade one of 10 games.
Tesco, Sainsbury's and Morrisons all offer money off when buying Xbox Live points cards or spending a certain amount in store. You could use the points cards to subscribe to Call of Duty: Elite. Tesco warned of high demand when Eurogamer phoned the supermarket today. Stock levels are unavailable there.
Online, Sainsbury's Entertainment has the best price of £35.99 (PS3, 360), £30.39 (Wii), £27.99 (PC) and £19.99 (DS) thanks to a 20 per cent off voucher - CODJSGA311002.
BestBuy's online price of £34.99 (PS3/360) has meant stock has sold out. It's hard to believe that Carphone Warehouse will close BestBuy at the end of this year.
Modern Warfare 3 eBay prices start at £30.
The Hardened Edition of Modern Warfare 3 has sold out nearly everywhere. Tesco once offered this for £70. Today, you can find the Hardened Edition of Modern Warfare 3 at Simply Games for 89.95 on PS3 (sold out on Xbox 360), or for £119.99 on Play.com.
Those who bought Battlefield 3 at GameStop can still pre-order Modern Warfare 3 to enable to the 'Modern Warfare 3 for 99p' deal.
Note that Activision raised the base RRP of a Call of Duty game by £5 back with Modern Warfare 2. A PS3 or Xbox 360 version of Modern Warfare 3 carries an RRP of £54.99, compared to most other game's RRP of £49.99.
Modern Warfare 3 prices of £44.99 or higher on PS3 and Xbox 360, or £39.99 or higher on PC, are excluded from our roundup.
Game and HMV are doing nation-wide midnight openings tonight to sell Modern Warfare 3.
Bricks and mortar shops
PS3/360
BestBuy - £29.99 (in-store on Tuesday, 8th November only)
HMV - £TBC (£9.99 when trading Uncharted 3, Batman: Arkham City, GoldenEye Reloaded or Battlefield 3)
Game - £TBC (half-price when trading Gears of War 3, Dead Island, FIFA 12, Batman: Arkham City, Resistance 3, F1 2011, Forza 4, Dark Souls, Ace Combat: Assault Horizon, X-Men Destiny)
Tesco - £TBC (£25 when you buy either 2100 MSP card, 4200 MSP card, 12 + 2 month Xbox Live membership or £35 PSN card)
Sainsbury's - £38.99 (£28.99 when you spend £30 or more)
Morrisons - £39.99 (says store: £34.99 on Xbox 360 when bought with 12-month Xbox Live Gold subscription, says Metro: £25 when bought with 12-month Xbox Live sub) - could change tomorrow
Asda - £38.97 (£5 voucher by spending £40 or more then doing a price check online)
Online shops
PC
PS3/360
Wii
DS
Hardened Edition