THQ not worried by Grand Theft Auto 5
Saints Row is a "very different experience".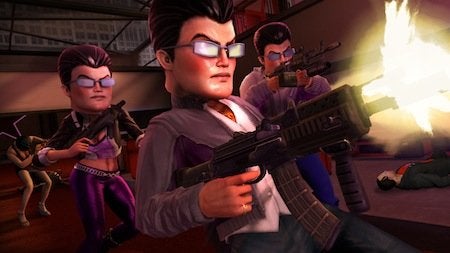 THQ isn't worried that today's Grand Theft Auto 5 reveal will diminish excitement for its own open world crime effort, Saints Row: The Third.
Speaking during an investor Q&A session earlier today, CEO Brian Farrell explained that its game offered a very different experience to Rockstar's series.
"I went online like everyone to see the GTA trailer," said Farrell, when asked whether today's GTA5 trailer might effect Saints Row pre-orders.
"As you point out, it's a high quality trailer and I think it's going to be another fantastic game in the GTA series.
"That said, it also shows the completely different positioning of the two games. GTA is still serious and character driven - a very different experience. Saints Row - if you saw our video today - it shows you all the crazy stuff in the game.
"It's a totally different positioning," he continued, "and if you read the forums it's like 'hey, I love GTA, and I love this game because it's a very different game that knows what it is and is very entertaining.'"
Elsewhere during the presentation, Farrell announced that Saints Row: The Third pre-orders are four times higher than they were for Saints Row 2. It's aiming to sell three million copies of the game, due out on 18th November, in the fiscal year.