Theatrhythm Final Fantasy release date, pre-order bonuses announced
Game-themed stylus, Final Fantasy stickers available.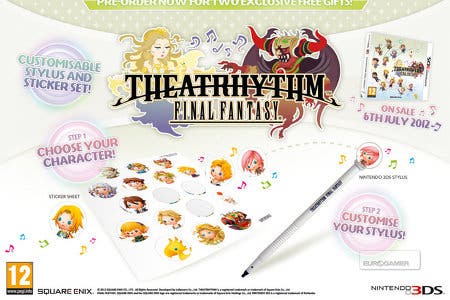 Theatrhythm Final Fantasy launches in Europe on 6th July, Square Enix has announced.
Pre-order the Nintendo 3DS Final Fantasy spin-off from Amazon.co.uk and you get one game-themed stylus, while supplies last. You can customise the stylus with 17 stickers that feature the Japanese role-playing franchise's most popular characters, including Cloud, Moogle, Lightning, Chocobo, Tidus, Cecil, Terra and Squall.
Theatrhythm Final Fantasy pits the gods Chaos and Cosmos against each other, and you help by tapping the screen in time to music. The game features 70 themes from throughout the Final Fantasy series' 25 year history. Tapping correctly helps your characters progress through the field and defeat foes in battle. You can even ride Chocobos.
A rogues gallery of Final Fantasy heroes put in appearances, including playable chibi versions of Final Fantasy 13's Lightning and Final Fantasy 7's Cloud Strife. Theatrhythm is developed by indieszero, creator of Nintendo-published DS rhythm game Electroplankton.