Bizarre Final Fantasy music spin-off confirmed for Europe
Electroplankton dev's Theatrhythm due this summer.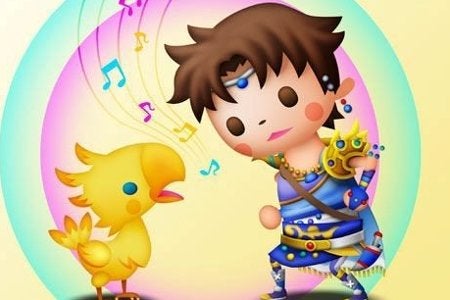 Oddball rhythm-based Final Fantasy 3DS spin-off Theatrhythm launches in Europe this summer, publisher Square Enix has announced.
Theatrhythm Final Fantasy pits the gods Chaos and Cosmos against each other. You must help in the only way you can - by tapping the screen in time to music.
The game features 70 themes from throughout the Final Fantasy series' 25 year history. Tapping correctly will help your characters progress through the field and defeat foes in battle. You can even ride Chocobos.
A rogues gallery of Final Fantasy heroes put in appearances, including playable chibi versions of Final Fantasy 13's Lightning and Final Fantasy 7's Cloud Strife.
Theatrhythm is developed by indieszero, creator of Nintendo-published DS rhythm game Electroplankton, and launched in Japan last month to strong sales.