Final Fantasy Theatrhythm DLC on 3DS eShop this week
Square Enix charging 90p per track.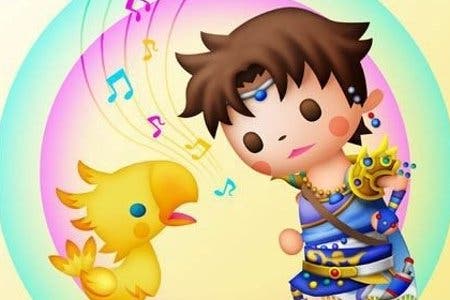 Nintendo's first serving of paid-for 3DS DLC arrives in Europe this week, with eight new tracks for rhythm-based Final Fantasy spin-off Theatrhythm.
Each new ditty costs 90 pence to download. There's a range of tunes on offer from throughout the RPG series' history:
A Fleeting Dream (FF10 - FMS)
Ride On (FF08 - FMS)
Cosmo Canyon (FF07 - FMS)
In Search of Light (FF05 - FMS)
Fighting Fate (FF13 - BMS)
Fighters of the Crystal (FF11 - BMS)
The Final Battle (FF04 - BMS)
Battle Theme 1 (FF02 - BMS)
Songs labelled "FMS" are Field Music levels, while "BMS" are Battle Music melodies.
The new content arrives in time for Theatrhythm's European launch on Friday (stand by for Eurogamer's verdict tomorrow).
But that's not all. Ancient Game Boy title Castlevania: The Adventure is dusted off for a 3DS Virtual Console launch this week (£2.70), and there's a demo of Mutant Mudds, the 2D platformer from Dementium developer Renegade Kid.
Zombie Slayer Diox (£5.40) features more undead hunting for 3DS, while Escape the Virus: Swarm Survival (£1.80) slithers onto DSiWare.