The Sims 4's new Paranormal Stuff Pack lets you move into your very own haunted house
Arriving later this month.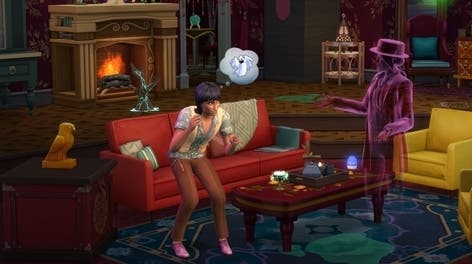 There'll soon be something strange in the neighbourhood courtesy of The Sims 4's newly revealed Paranormal Stuff Pack, which is scheduled to rain its spectral antics down upon Xbox One, PlayStation 4, Mac, and PC on 26th January.
The Sims 4's Paranormal Stuff Pack introduces a range of ghostly features and diversions, including new Haunted House Lots enabling Sims to settle into homes that come with their very own ghosts in residence - undead occupants that can either be appeased for some peace and quiet or left to rampage around the house, scaring up a storm.
Other new additions include the option for Sims to hold seances and commune with the dead, banishing unwanted guests, removing accursed objects, receiving gifts from across the astral plane, even summoning recurring Sims character Bonehilda the skeletal maid, in the process.
Sims that manage to master the skills of a Medium can apply for the new Paranormal Investigator license, enabling them to embark on a new career banishing unwanted spirits from the homes of residents in the neighbourhood.
Elsewhere, the Paranormal Pack introduces a selection of appropriately spooky new furniture items and decorative objects for some ghoulish ambience, as well as the likes of clothing, accessories, and hairdos for those angling for a new look.
Expect the Sims 4's Paranormal Stuff Pack to cost around £9.99 when it comes to Xbox One, PS4, Mac, and PC on 26th January.