The Royal Kludge RK68 can be had for just £46 at Amazon
One of the best entry-level mechanical keyboards that's easy to customise.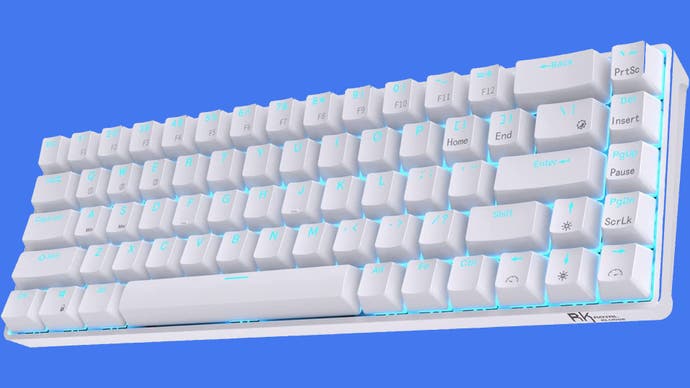 Mechanical keyboards can be a bit of a rabbit-hole, with so many ways to customise and upgrade a keyboard with different switches, keycaps, stabilisers and more.
It can be an expensive hobby, but you don't have to spend a lot of money to get started in it, or spend a lot to create something you like that is custom to you.
The Royal Kludge RK68 is a bit of an icon in this sense, being one of the most popular starting keyboards for people looking to create their own custom keyboard.
It's even more affordable now that it's got a 20 per cent discount in the Amazon Spring sale. Even better, you can knock an additional £10 off when you apply the voucher on its product page, making it a great time to pick one up.
The RK68 is a small form-factor keyboard that has 68 keys on it. That means you won't get a row of function keys or a number pad, but you will still have arrow keys and page up/down.
You can get the RK68 with either blue, brown or red mechanical switches. We'd recommend getting red switches if you're going to be primarily gaming, blue switches if you type a lot and enjoy clicky sounding boards, or brown switches if you're doing both and want some tactile responsiveness.
The RK68 is a great entry-level mechanical keyboard, especially for this lower price, but it can really come into its own when you customise it a bit. Have a read of my budget custom keyboard guide for some ideas and advice on how-to.
The Amazon spring sale has nearly wrapped up, but there's still time to snap up a deal or two. Have a read through our Spring sale guide page, or scroll back through our Live Blog or the Jelly Deals Twitter to see what you might have missed out on so far.