The new Ring Fit Adventure/Nintendo Switch bundle is out
Fit for purpose.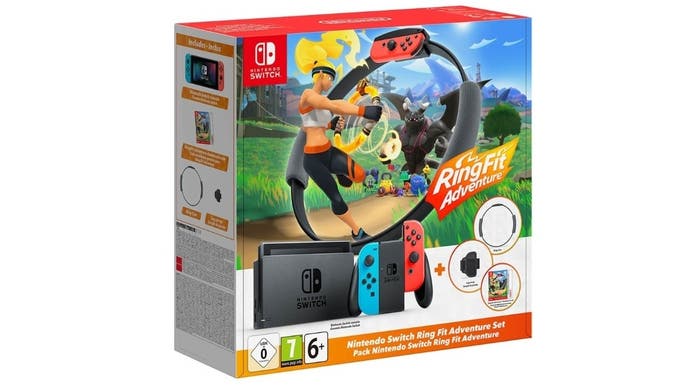 Nintendo knows about the constant demand for the Ring Fit Adventure, and have decided to match that with a brand new bundle for prospective Switch buyers - a Nintendo Switch console that comes with a discounted Ring Fit game.
The Ring Fit has been the game of choice for many this year, as it doubles as both entertainment and workout, coming with a rubber/plastic ring peripheral and played solely through hard-hitting exercise routines. Your character on-screen only runs when you run (or do squats, if you're feeling ambitious). They jump when you jump. And they attack when you - well, when you perform the right exercises, because you shouldn't attack things in your living room. It's a way to burn calories as you blast goblins, finally facing off against the most aggressively buff dragon you ever saw. We've outlined the lowest prices we've seen it going for just below.
We'll be sure to update this page or create a new one if we find better prices later on, but it's probably not worth waiting for much better prices short-term - Nintendo don't like putting significant discounts on their games if they can help it, especially the major first-party releases. Still, we'll let you know if the unexpected does happen.
You can find any number of deals here at Eurogamer, courtesy of your friends at Jelly Deals. Find the cheapest places to get Cyberpunk 2077 here, or check out where to get a discounted Super Mario Bros. Game & Watch! Or just follow the Jelly Deals Twitter for quick info on deals everywhere.