Now a modder is attempting Dark Souls 3 with a Ring Fit Adventure controller
From the mind behind Dark Souls on a banana.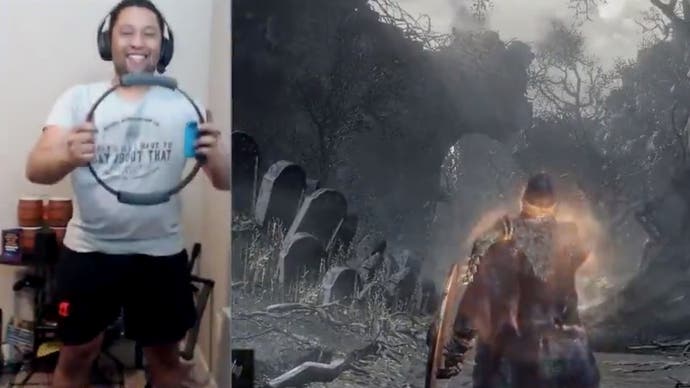 In the grand tradition of people modding their favourite video games to be played with the most wildly inappropriate controller imaginable, one plucky gent is currently sprinting and squatting his way through Dark Souls 3 using Nintendo's Ring Fit Adventure peripheral.
Developer From Software's notoriously challenging Dark Souls series has long been a favourite for atypical controller larks, of course; we've seen Dark Souls completed using a bongo controller, its sequel bested using a guitar controller, and part 3 has inspired attempts using two dance mats, a Wii steering wheel, even a bunch of actual bananas.
As it happens, those latter three efforts were all the work of just one man - modder SuperLouis64, previously known as A Twerking Yoshi - and now he's at it again, this time combining Dark Souls 3 with Ring Fit Adventure's pleasingly squeezable controller.
This isn't SuperLouis64's first rodeo with the Ring Fit Adventure controller, however; he's already used it to tangle with the likes of Mario Kart 8 and The Legend of Zelda: Breath of the Wild, but Dark Souls 3 may well be his most challenging endeavour yet.
And if you're wondering how the whole thing works in practical terms, key Dark Souls 3 control elements have been remapped to considerably more energetic equivalents on the ring controller: movement is now only possible while running on the spot (the mod even checks to make sure your knees are sufficiently high and you're not cheating), squeezing the ring performs an attack, and squatting downward chugs back an Estus Flask.
So far, SuperLouis64 has managed to jog, squeeze, and squat his way through a sizeable portion of the game - most recently besting Lothric Castle's Dragonslayer Armour in a flurry of flailing knees - an effort that's proved to be as sweatily exhausting as it has impressive, judging by the accompanying livestream videos.
You can see SuperLouis64's ring-based attempts to wrap up the remainder of Dark Souls 3 over on Twitch, and his previous modding oddities are viewable on YouTube.