The Binding of Isaac: Unholy Edition gets retail release
Swish collector's set includes poster, devzine, OST.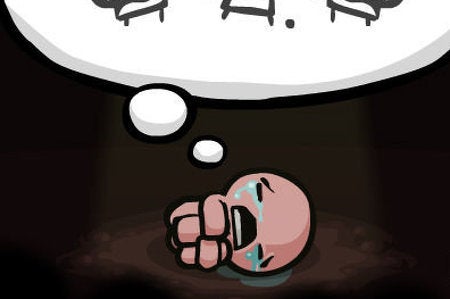 Acclaimed PC indie oddity The Binding of Isaac gets a full retail release in the UK on 16th March, courtesy of publisher Merge Games.
Dubbed the Unholy Edition, it includes a DRM-free version of the game, a free Steam gifting key, the game's soundtrack, a (distinctly horrifying) poster and a 40 page "devzine".
Check out the images below for a closer look at the rather handsome set.
A price hasn't been confirmed yet, but considering the original sells for a mere £3.99, it shouldn't be too dear.
As revealed earlier this month, an expansion pack is currently in the works, titled The Wrath of the Lamb.
Super Meat Boy co-creator Edmund McMillen's jet-black Legend of Zelda riff picked up a glowing 9/10 from Eurogamer when it launched last year.
"With Binding, McMillen and Himsl created the rules of the world and then set it in motion," read John Teti's The Binding of Isaac review. "Yet this game is nearly as much fun as Super Meat Boy, and more profound. It proves that there's more than one way to make a masterpiece."