Binding of Isaac creator's Stay Inside bundle gathers up a stellar bunch of games for £15
Available now on Steam.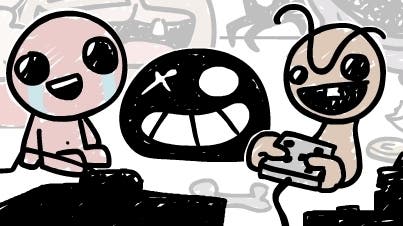 If you're searching for some weekend stay-indoors entertainment, Edmund McMillen, creator of the much-loved Binding of Isaac series, has gathered together a stellar bunch of his titles (plus a few from his friends) for the absolute steal of slightly less than £15.
The Stay Inside Bundle, as it's known, is available for a limited-time on Steam, and includes, as its starting point, the original 2011 version of poo-obsessed dungeon-crawler Binding of Isaac and its Wrath of the Lamb expansion. It also features 2014's celebrated re-imagining, The Binding of Isaac: Rebirth, and its two subsequent Afterbirth expansions.
That's already a sizeable chunk of entertainment if you're won over by Isaac's rogue-like rhythms, but you'll also get McMillen's deliciously atmospheric Super-Meat-Boy-esque platformer The End is Nigh, recent Isaac spin-off The Legend of Bum-bo, daft whodunnit Fingered, plus The Basement Collection, a compendium of the developer's earlier work.
And if that's still not enough, the Stay Inside Bundle also throws in Eyebrow Interactive's Closure and Bombernauts, Nicalis' Crystal Crisis, and Studio Saizensen's Blade Strangers.
"This bundle is the biggest discount I've ever put on my games," says McMillen on Twitter, "so I hope it helps make the next few months a bit easier for all of you. Enjoy."
Those looking to while away the hours of self-isolation with some of McMillen's distinctively dark entertainment can pick up the Stay Inside Bundle on Steam of £14.80.