Tales from the Borderlands story, mechanics detailed
UPDATE: Now watch the SXSW panel in full.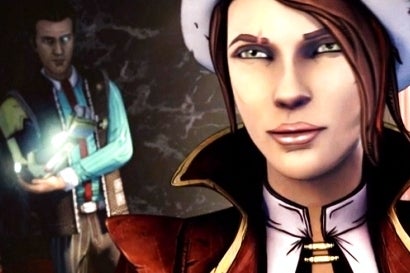 UPDATE 2.15PM: Telltale Games has now made the entirety of its SXSW panel on Tales from the Borderlands available to watch via YouTube. Catch it in full below.
ORIGINAL STORY 10.02AM: Telltale Games' upcoming Tales from the Borderlands will offer a story of two sides, each with its own protagonist.
Set after the events of Borderlands 2, Tales will follow con-artist Fiona and Hyperion worker Rhys as they recall events from each of their own, differing points of view.
It'll be up to players to work out exactly which version is correct - or if neither is telling the truth.
"You never really play what actually happened, you're playing this Big Fish version of what happened," Telltale co-founder Kevin Bruner explained during a panel at SXSW (thanks, Polygon).
Tales will have a heavy focus on humour - something largely absent from the darker worlds of Telltale's The Walking Dead and The Wolf Among Us - but will still include shooting sections, "just in a Telltale kind of way".
Familiar Borderlands characters will make appearances, but Telltale described the game as more of a side-story set in the same universe.
"It's not about the badasses doing badass things - it's about schmos trying to get by, and that makes the world feel much more real," Gearbox writer Antony Burch explained.
"Borderlands can be more than just shooting people in the face repeatedly. That it could be shooting people in the face repeatedly and then talking to them is a cool possibility for us."