Taki looks like Taki in Soulcalibur 6
You never learn, do you?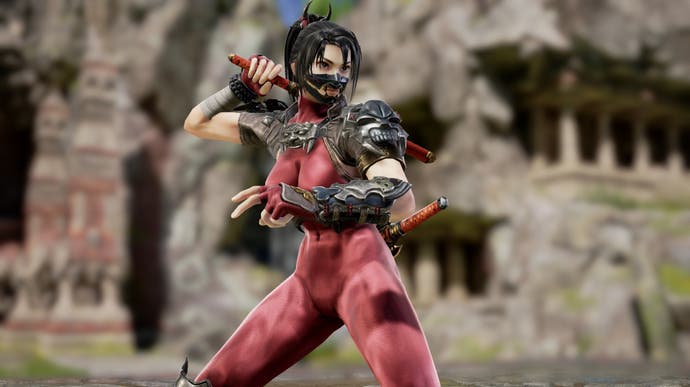 Taki's back for Soulcalibur 6, Bandai Namco has announced.
Taki wasn't in Soulcalibur 5, so here appearance in 6 marks a return of sorts. Based on the video, below, the fast-moving ninja's design from previous games hasn't changed much at all. Her terrible voice acting is present and correct, too.
Here's the official blurb:
"Taki is a famous ninja also known as the Fu-Ma's Shadow, so there's no doubting her fighting skills! She is also an expert in blacksmithing having crafted her own two swords Rekki-Maru & Mekki-Maru. Her last masterpiece Mekki-Maru is fused with a fragment of the Cursed Sword. Even if the whereabouts of the Soul Edge are unknown, Taki's weapon still glows with a mysterious power..."
Taki is the 11th playable character to be announced for Soulcalibur 6 so far. Here's the list:
Geralt
Grøh
Ivy
Kilik
Mitsurugi
Nightmare
Siegfried
Sophitia
Taki
Xianghua
Zasalamel
Expect Soulcalibur 6 to launch at some point in 2018 on PC, PlayStation 4 and Xbox One.