Soulcalibur 6 analysis: every version tested
Image quality and effects work split the pack.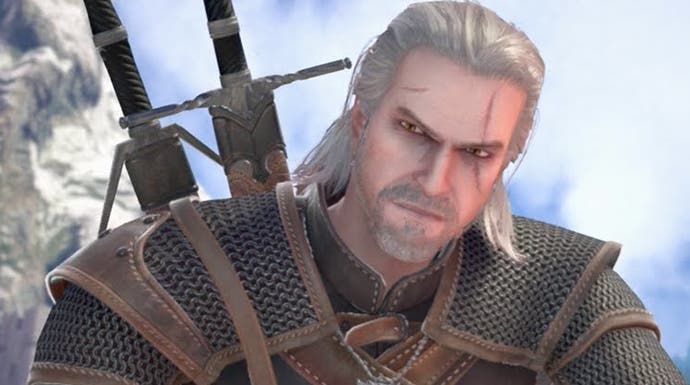 Marking the series' 20th anniversary, a tale of souls and swords is retold once more in Soulcalibur 6 - a sequel that positions itself as something of a successor to the Dreamcast classic, in reprising its cast. It's a direct link that only highlights just how far we've come in the interim. We have two decades worth of move-set changes, added mechanics and technical upgrades to factor in, where Bandai Namco's efforts today are based on an entirely different engine. With the move to Unreal Engine 4, as with Tekken 7, it gives the team scope to push for more effects and shaders than we'd thought possible back in 1998. At launch, it also gives it the means to scale across more platforms than any entry before it. In doing so, there's a huge gulf in image quality between the four current-gen machines.
As usual, it's resolution that scales most obviously across all four console versions. Xbox One X fares best here, even though it's only truly hitting 2560x1440 while connected to a 4K display. There's no hint of dynamic res scaling, but it does hold up reasonably well even so - just expect more shimmer on specular highlights. In terms of the visual feature set, it's effectively a match with PC at its best - the only system that can deliver full 4K. We tested this on a Titan X Maxwell, broadly equivalent to a GTX 980 Ti and the popular GTX 1070. This still drops frames in targeting 4K at max settings, requiring internal resolution scaling to drop to 80 per cent to lock at 60fps. For reference then, a GTX 1080 should be your target for a full 4K60.
Tracking back to the consoles, the next-best version of Soulcalibur 4 is inevitably the PlayStation 4 Pro, though only a native 1920x1080 is possible here. Anyone expecting proper support for an Ultra HDTV will be disappointed, but if you connect the Pro to a 1080p display, it's the only console to give an unscaled match for the final output. Indeed, a standard PS4 renders only at 900p, while Xbox One only pushes a comparatively meagre 720p. The trade here is obvious - aside from some small frame-drops in non-playable sections on Xbox One X, Soulcalibur 6 delivers a locked 60 frames per second - essential for a game like this.
Beyond that, there are also tweaks to the game's visual make-up. An effective way to summarise it is to compare the extremes, between a base Xbox One and the X model. The biggest difference here? Outside of the quarupled resolution, from 720p to 1440p, this 6TF machine also adds bloom and even a high quality ambient occlusion too. For the base Xbox One, most of the PC-equivalent presets are also dialled back significantly - and that includes anti-aliasing, which takes a visible hit.
Fortunately, some aspects are common to all versions. Soulcalibur 6 pushes heavily on effects for guard reversals and charged attacks - bursts of fire and lightning that punctuate each hit. The result on a base Xbox One is similar to the X, the main difference being they're viewed through a lower-resolution window. The net result is the further away the dueling characters, the less distinct these transparency effects become - but fundamentally Bandai Namco opts to keep the same quality assets in place.
Sticking with the two Xbox One machines, textures are a different case. The materials on clothing, and normal mapping across stages are identical between the base model and X. However the texture quality setting on PC primarily affects the filtering, and so on console, X essentially gets its best 16x anisotropic filtering setting. Unfortunately, this is compared to a far weaker preset on the regular Xbox One, which blurs all textures at fine angles. Along with its 720p resolution, it combines to create the blurriest image of all the machines. Low-grade filtering is especially glaring in a fighting game, sadly, given the camera views the stage at a fixed, hard angle.
Shadow quality is also a major sticking point. Character shadows are not only low resolution on Xbox One, but also unfiltered up close to the camera. This means character intros show heavy pixellation across torsos, while X gets away with a crisp outline. Fortunately, quality is based on the range from the camera, and once the match kicks off, Xbox One produces better-looking, sharper outlines on the ground further away - where they are filtered. It's simply a byproduct of the filtering logic - similar to the texturing - which means you get the shadow outlines presented raw from select angles, usually nearer the camera.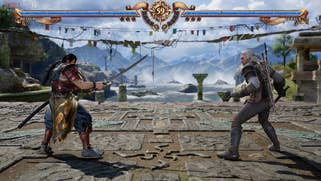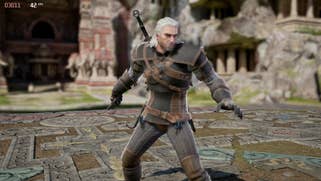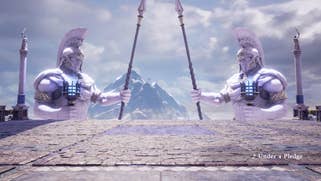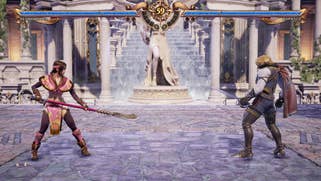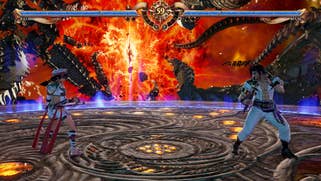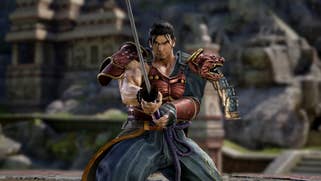 But what about PS4 and PS4 Pro? Simply put, these sit in-between the Xbox One consoles in terms of quality - where the more powerful the hardware, the higher shadow and texture filtering quality ratchet up. Looking at a base PS4 first, you're getting better texture filtering and shadows next to a standard Xbox One, in addition to its higher 900p resolution. Ambient occlusion is also added. PS4 suffers from similar low-res shading on characters to Xbox One, but the filtering here is at least superior - meaning you're less likely to catch its rough points. Meanwhile, PS4 Pro sees another step up in all regards; a move to 1080p, and the next rung up in shadow quality and texture filtering - falling a level short of Xbox One X's standard.
Across the stack, every version of Soulcalibur 6 plays well at 60fps. Even the base Xbox One comes through unscathed. For all its cutbacks - in shadows, ambient occlusion, and its 720p resolution, it does at least pay off in a locked 60fps line. This goes for PS4, the Pro model, and X - in every case the settings match the spec, insofar as there's GPU headroom to run a majority of the time at 60. It's worth noting Xbox One X does show signs of some heavier drops to 55fps during special moves - while the PS4 and PS4 Pro can stutter just as the finishing blow lands. However, these are always in instances where control is out of the player's hands anyway, and it won't affect play. Meanwhile, it's curious to note the base Xbox One lands a slightly more even level of performance overall, compared to the other three consoles - though it's a small discrepancy.
Based on its move to Unreal Engine 4, Soulcalibur 6 follows the tradition of many fighters this generation - revitalising a series on an entirely new technical platform. Tekken 7 already set a precedent with UE4, blazing a trail for its sister series. It also marks Soulcalibur at its most excessive; a world away from the simplicity of the original game two decades ago - and it seems every move bombards the screen with effects. For our tastes, there's still a lot to enjoy in the clean, straightforward design of the original. It was a time before the special moves, the slow motion reversal guards and bursts of fire that come with every impact. It's well worth revisiting the first game if you haven't, in that sense - a release that's easily available through Xbox One back-compat right now. But as it stands, Soulcalibur 6 is still an impressive showcase for Epic's engine and another success story for the fighting game genre.
Will you support the Digital Foundry team?
Digital Foundry specialises in technical analysis of gaming hardware and software, using state-of-the-art capture systems and bespoke software to show you how well games and hardware run, visualising precisely what they're capable of. In order to show you what 4K gaming actually looks like we needed to build our own platform to supply high quality 4K video for offline viewing. So we did.
Our videos are multi-gigabyte files and we've chosen a high quality provider to ensure fast downloads. However, that bandwidth isn't free and so we charge a small monthly subscription fee of £4.50. We think it's a small price to pay for unlimited access to top-tier quality encodes of our content. Thank you.
Support Digital Foundry