SWTOR has 350,000 peak concurrent users - report
Proves there can be multiple MMO champions.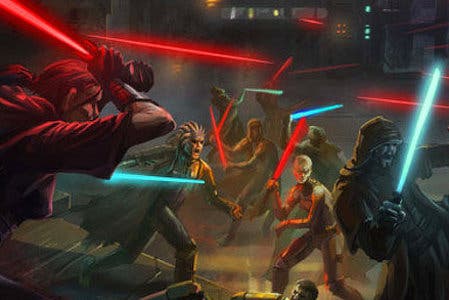 Huge BioWare MMO Star Wars: The Old Republic is estimated to have as many as 350,000 gamers playing together at once.
That peak concurrent number comes from Baird Equity Research. Colin Sebastian, an analyst there, believes the "early success" of SWTOR proves that "multiple million-user MMOs" can co-exist within the genre.
"We view the early success of Star Wars as an indication of a healthy MMO market," Sebastian told GamesIndustry.biz.
"While there is likely some shifting of usage from Activision's World of Warcraft, we see a viable market for multiple million-user MMOs in the US and Europe."
EA, publisher of Star Wars: The Old Republic, said that more than one million people had registered to play during the Christmas period.
Ageing MMO champion World of Warcraft has shed subscribers since autumn 2010 - around 1.7 million have left.
Analysts at Cowen and Company expect the arrival of SWTOR to have "minimal apparent impact" on Blizzard's MMO, but accept that subscriber drop-off over Christmas may be higher than in recent months.
Star Wars: The Old Republic launched on 20th December, following two weeks of staggered early access invitations.
The 30-day subscription-free period granted to SWTOR game buyers expires for early adopters later this month. Whether they'll pay to stick around remains to be seen.
Eurogamer's Star Wars: The Old Republic review was published this morning. The score: 8/10.
"BioWare has done what many thought might be impossible," wrote reviewer Oli Welsh, "and delivered the world's second ever triple-A MMO. That is a mighty achievement and a huge relief.
"But it may yet turn out to be too little - or rather, too much - too late."