Switch off your Galaxy Note 7 immediately, Samsung says
UPDATE: Production now permanently ceased.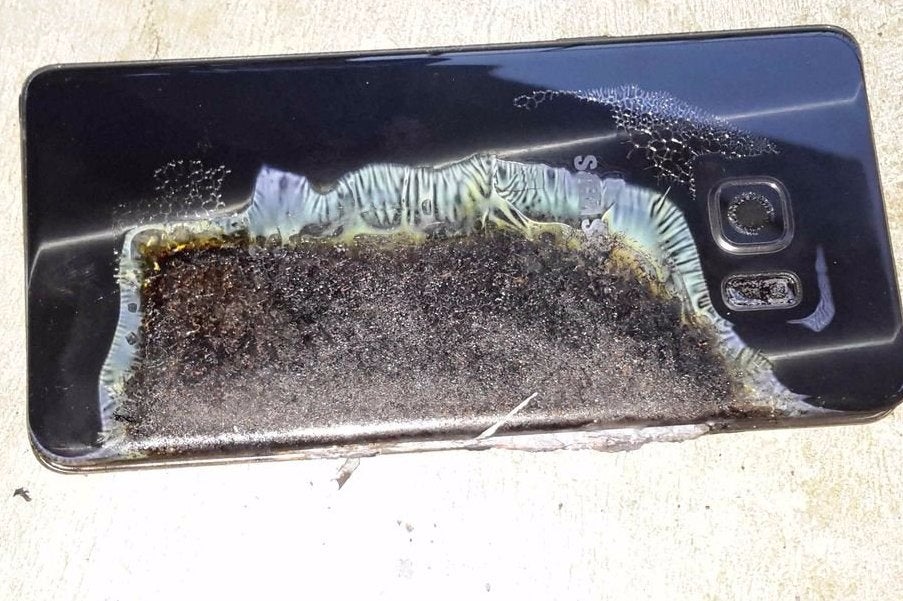 UPDATE 10.50am: Samsung has just announced it will permanently cease all production of the Galaxy Note 7.
The announcement, confirmed to Wall Street Journal and Bloomberg this morning, follows last night's decision to remove the handset from sale.
"Taking our customer's safety as our highest priority, we have decided to halt sales and production of the Galaxy Note 7," Samsung confirmed, killing off the beleaguered phone for good.
The Galaxy Note 7 had been pegged as Samsung's big iPhone 7 rival this Christmas. An estimated 2.5m handsets had been shipped worldwide since the phone launched back in August.
---
ORIGINAL STORY 10.10am: Technology giant Samsung has taken the unprecedented step of telling customers to turn off their Galaxy Note 7 phones - for good.
Owners of the newly-released device have been reporting cases of the phone catching fire or exploding since its launch back in August.
Last week a domestic US flight had to be evacuated after smoke from a Galaxy Note 7 filled the cabin. Other owners have reported property damage after their phones caught fire.
Until now, Samsung has attempted to pour water on the extent of the problem.
The company issued a partial recall of the Galaxy Note 7 in September but since assured owners that the issue had been fixed, and all remaining phones were safe.
However, Galaxy Note 7s have continued to catch fire - including devices from shipments which Samsung had deemed to be unaffected by the issue.
Samsung has now - finally - suspended global sales of the phone and asked users to immediately power down the device.
"We now ask that you power down your device and return to using your previous phone," a statement on Samsung's UK website reads.
Samsung's site still advertises a phone exchange programme where users can get a replacement model for free, but this has now been paused as well.
It is a little unclear what Galaxy Note 7 owners should now do, apart from not use their phone. The company has said it will now conducted further tests on its handset.
In one piece of lighter news, Grand Theft Auto 5 modders have included the explosive power of the Galaxy Note 7 in Rockstar's open world - as you can see above.
Modder HitmanNiko has simply swapped out the game's sticky bomb item with the troubled phone handset (which you can also add a customised wallpaper to).