"Strong possibility" Relic will work with Games Workshop on Dawn of War 3
"Sometimes it's easier to start again on something new."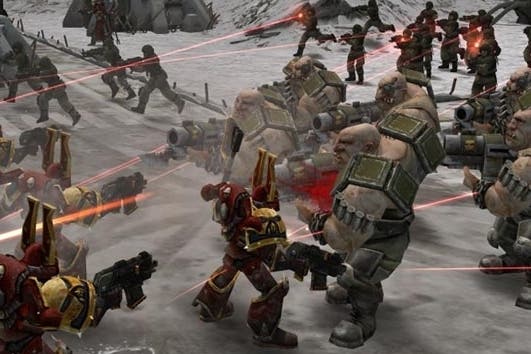 There is a "strong possibility" that Relic Entertainment will work with Games Workshop on a new Warhammer 40k: Dawn of War game.
That's according to game director Quinn Duffy, who suggested to Eurogamer that Relic may go back to the drawing board for the third game in the series having stopped and started on a number of ideas.
Earlier this year Sega bought Relic after previous owner THQ went bankrupt. As part of the $26.6 million deal, the Japanese company acquired the studio and the rights to RTS series Company of Heroes. The second game, Company of Heroes 2, launches in June.
What is unclear, however, is whether the Warhammer 40k license was part of the deal. Sega won't say, and Games Workshop, which owns the Warhammer 40k IP, has been busy licensing its properties out to multiple developers. There's a turn-based Space Hulk game in the works, for example, and Slitherine is making a mystery Warhammer 40k strategy game.
But what of Dawn of War?
"I'm still a bit fuzzy on that," Duffy said. "There were certain properties that were attached to the sale of Relic initially, which was Company of Heroes, but not all of Relic's initial IP was part of that initial sale package.
"Dawn of War, because it's a license and it's owned by Games Workshop, they have the opportunity to work that license with whoever they want. I would hope it would be us again. We had a great working relationship with Games Workshop. Sega is establishing one now with the fantasy license for Creative Assembly.
"There's a strong possibility we'll all be working together again on Dawn of War."
Prior to his exit from the company, THQ core games boss Danny Bilson spoke openly with Eurogamer about Dawn of War 3. At one stage it had an August 2012 to February 2013 release window - but THQ's high-profile financial troubles put paid to that.
Bilson had said the game "is going to have a much larger strategic component to it, more of a global battle going on with little tactical things, sort of MMO-like".
While Duffy was unable to talk about the specifics on the work done on Dawn of War 3, he did suggest Relic will want to improve its technology before building it.
"When we look at things like that, especially when you get into very early development on future titles, some of it is beneficial from a learning experience, and some of it from a technology experience just isn't," he said.
"We've stopped and started on a number of things over the past that have given us lessons. But sometimes it's easier just to start again on something new. With Company of Heroes, when we started, we wanted to bring our level of tech up substantially. Going into the future, Relic's got to do that again. We've got to get our next generation engine ready for years down the road. Whatever's happening has to take that into account."
But is Relic working on Dawn of War 3?
"I won't say..." Duffy said with a smile.