Stealing, stabbing, choking: a first look at stealth in Kingdom Come Deliverance
Hide and sneak.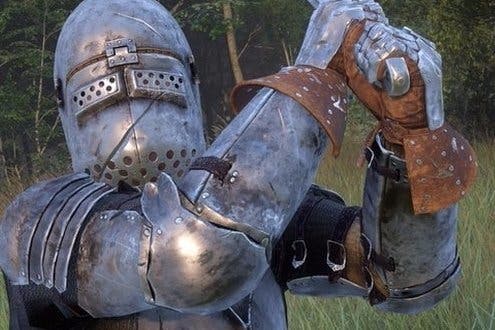 The Gamescom presentation for medieval no-fantasy role-playing game Kingdom Come: Deliverance has made its way online. It's inching ever closer to being a full package, even though, up until relatively recently, the game was due for release around now (Kingdom Come: Deliverance was delayed to 2017 in May).
Things to look out for in the presentation include stealth, which we haven't seen before. It's not clear exactly how it works, but there don't appear to be any UI indications to show that you're hidden (and the game sound is turned off in favour of music). Maybe there's not that much to it. Nevertheless, from hidden you can steal, stab and choke people unconscious, which is nice.
The presentation also shows combat with polearm weapons, which can reach up and push people off of horses, as well as of course clobber them on foot.
There's a glimpse at hand-to-hand combat, too, which appears to be based on a variation of palming squishy parts of faces, or kneeing them.
Kingdom Come: Deliverance is the crowdfunded game made by Warhorse Studios in the Czech Republic. Its no-fantasy concept and CryEngine graphics have caused quite a stir, and I've been tracking it for a while now. By chance I even managed to see Kingdom Come: Deliverance's Kickstarter campaign tick down to zero from the Warhorse office itself, while in Prague visiting ArmA and Bohemia developer Bohemia.
Most recently I recorded 30 minutes of the Kingdom Come: Deliverance beta, which introduced the game's storyline complete with cut-scenes, opened a new area, and staged a large-scale battle.
Kingdom Come: Deliverance is coming to PC, PS4 and Xbox One. Whether it'll launch simultaneously isn't known.