Star Wars Jedi: Fallen Order's orange lightsaber now available for all
Along with other pre-order goodies.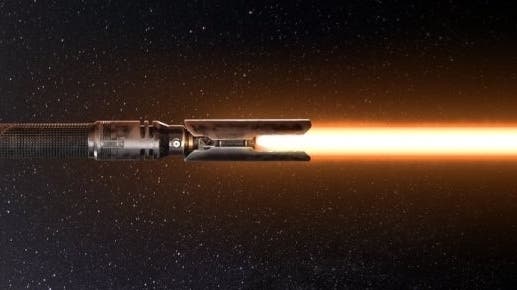 If you lacked the forcesight to pre-order Star Wars Jedi: Fallen Order and missed out on an orange lightsaber, fear not, as the latest patch has unlocked pre-order content for all players. Although, if you got the PC version you could already just mod it to any colour you like, I suppose.
A number of snazzy items are now up for grabs: including the orange lightsaber, the Mygeeto Campaign and Umbaran Campaign lightsaber hilts, the Bee-D-1 skin and a gold squadron skin for the Stinger Mantis.

Another change of note is you can no longer exploit the game's photo mode to destroy rockets. Yes, this was a thing: and apparently the photo mode could also interact with "trigger volumes within the levels that could potentially break the game". And I thought Thanos was the only person who could destroy the universe with a snap.
Other than that, a few more bugs have been squashed and collision has been improved on Ilum - and you can check out the patch notes for the full details. As it's been a few months since the game released, we're also seeing people break the game apart to uncover secrets, such as what's inside a Sarlacc pit. Unfortunately it's not a Mandalorian.